Siberian Roe Buck
in the Kurgan region (Russia)

TRIP DETAILS
Siberian roe bucks are the biggest of their kind, weighing up to 60 kg with trophies sometimes over 1 KG!
It is in the region of Kurgan, in the South of Russia and not far from the border of Kazakhstan that the largest deer of Siberia are found and in their highest densities. Year upon year we have selected the best territories in this area for you to hunt in. The choice of the area is based on availability, the number of hunters and the date of your stay. The territories can generally accommodate up to 4 hunters.
The most convenient way to get there is to take a flight from to Ekaterinburg. On arrival in Russia our team will welcome you, assist you with the formalities and drive you to your hunting house (3 to 5 hours).
Roe Buck hunting is open from August 25 to October 20 but the best period is during the rut, from August 25 to September 15. The landscape is composed of large cereal crops, plains and small birch forests, the terrain is relatively flat and is located at low altitude. Hunting takes place by stalking and / or with a call, in the traditional way. Travel on the territory is done by Jeep 4 x 4.
European Elks and wild boar can also be found on certain territories. The best period for both Elks & Siberian Roe Deer is from October 1 to 15, as it is during the Elk rut and the Roe Buck still have visible antlers. Wild boar can be hunted from August 25 to October 20 but they are somewhat rare.
ADVANTAGES OF THIS STAY
• Very large population of Siberian deer
• Beautiful trophies
• Local systems around hunting already in place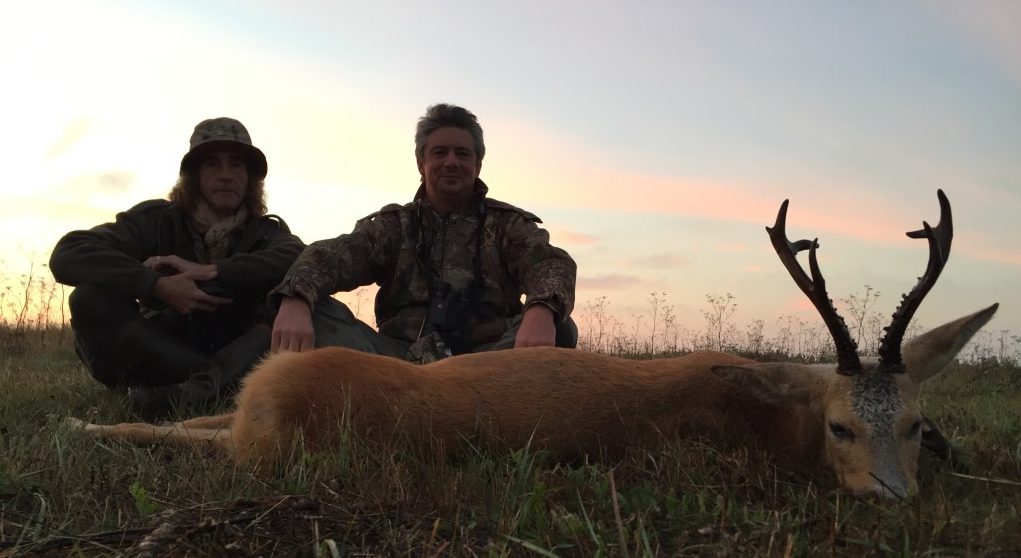 COURSE OF THE STAY
Day 1: Arrival in Ekaterinburg in the morning, reception and transfer to hunting lodges (3 to 5 hours)
Days 2 to 6: 5 days of hunting
Day 7: return to Ekaterinburg
Flights via Moscou are not possible due to to gun regulations.
ACCOMODATION
Accommodation is either in a hotel close to the hunting area or in a hunting house on the perimeter/ within the hunting area.
The accommodation is simple, providing you with the basics you need to have a comfortable stay.
HUNT
Hunting Siberian Roe Buck is very similar to hunting European Roe Buck. The hunter leaves their accommodation by car and then stalks and / or goes to a high seat according to preference. Each hunter is accompanied by a guide. There will be an outing every morning and evening. Shooting typically occurs at distances between 50 and 250 meters.
WEAPONS AND AMMUNITION
A bolt-action rifle is ideal. Recommended size 243 WM, 7 RM, 300 WM or equivalent. Soft-tip bullets, and enough taken for the duration of the stay. The rifle should preferably be equipped with a telescopic sight with good luminosity and sighted in beforehand by a gunsmith. A poorly adjusted telescope can turn your stay into a nightmare!
We strongly advise you to practice shooting before your trip, ideally practicing using a shooting stick which we recommend you using during your stay. We advise you, before the 1st outing, to shoot 1 or 2 bullets on target to ensure the adjustment of your weapon.
European firearm card required.
HUNTING SEASONS
Roe buck: From 25th August to 20th October
Wild boar: From 25th August to 20th October
Capercaillie: From 20th April to 10th May
Moore: From 1st to 20th October
PRACTICAL INFORMATION
Equipment: A detailed list will be provided to you upon registration.

Météo: August: 15 to 25° during the day, 10 to 15° at night
              September: 10 to 20° during the day, 5 to 10° at night
             October: 5 to 10° during the day, 0 to – 5° at night.

Passport: Mandatory, it must be valid at least 6 months after the date of your return.
Visa: Obtaining a visa is mandatory, it can be done at the Russian Embassy, it will take a minimum of 3 weeks to come through..
Air travel: DO NOT TRAVEL VIA MOSCOW due to weapon restrictions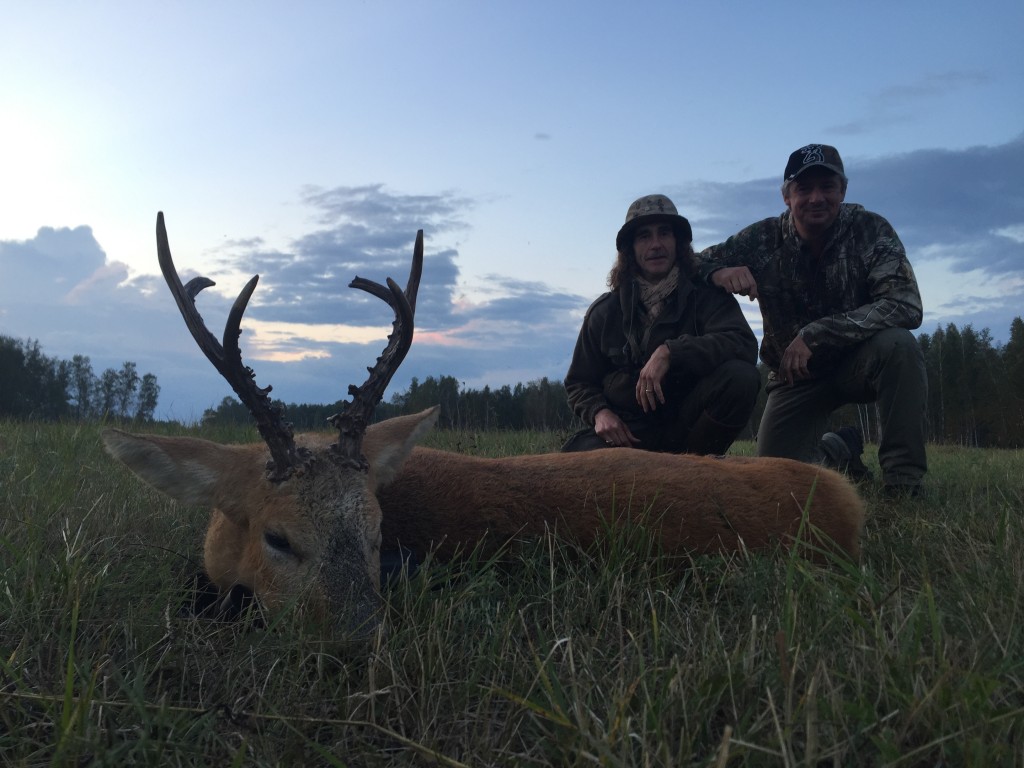 REPATRIATION OF TROPHIES
It is now prohibited to import trophies that do not have a drying time of at least 15 days into the C.E.E. After 15 days and once the documents are ready your trophy will be sent (at your expense) by air freight to Paris. It is your responsibility if you wish to bring them back in your suitcase.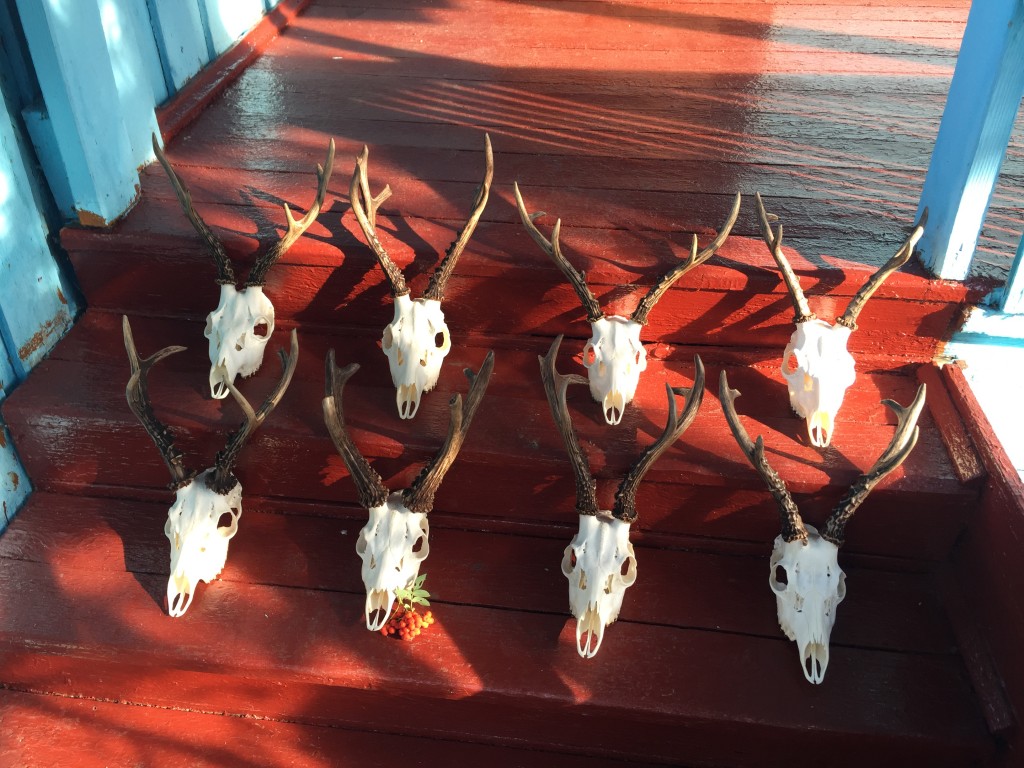 SPECIAL CONDITIONS OF SALE
Registration: Registration is only final when accompanied by a deposit of at least 50% of the travel price, the balance is to be paid in full 90 days before the date of departure. A deposit on the shooting taxes (900 € per Roe Buck) will be required upon booking, the balance payable within 15 days after receipt of the final invoice.
Cancellation: Any cancellation occurring more than 90 days before the departure date will result in the retention of 50% of the price of the stay (amount of the deposit). If cancellation occurs between 90 days and the day of departure, no refund will be given. In any case, the passenger may appeal to "cancellation" insurance, if this has been taken (contact us for more details).
Deposits: from the reservation date to 90 days before departure = 50% of costs.
from 89 days to the date of departure = 100% charge.
Insurance: You have the possibility of insuring for repatriation, cancellation costs, loss of luggage, interruption of stay and civil liability. Consult us for more information.
Prices: Our prices are valid for the 2020 hunting season.
---

When booking, you will be asked how many roe buck you wish to hunt, then a deposit of € 900 per roe buck will be requested.
The balance is payable within 15 days of receiving the final invoice.
These prices include:
• Reception and assistance at Ekaterinburg Airport,
• return transfer by car or minibus from Ekaterinburg to the hunting area,
• all trips to the hunting area,
• accommodation in a double room and meals during the hunting stay,
• the services of a hunting guide per hunter,
• the preparation of the trophies at the hunting camp,
• the Russian hunting license,
• the services of an interpreter per accommodation,,
These prices do not include:
• Return air ticket to Ekaterinburg,
• hunting insurance, € 70 (or provide us with a certificate),
• visa fees,
• excess baggage and / or the airline's weapon tax,
• tips (200 to 250 €), alcoholic beverages,
• trophy documents and crating (if necessary),
• the repatriation of trophies to be paid to your forwarder, if necessary,
• formalities: € 250 per hunter (weapon license, veterinary certificate, etc.), € 200 per non-hunter,
• Trophy Fees for each animal taken:
ROE BUCK SHOOTING TAXES*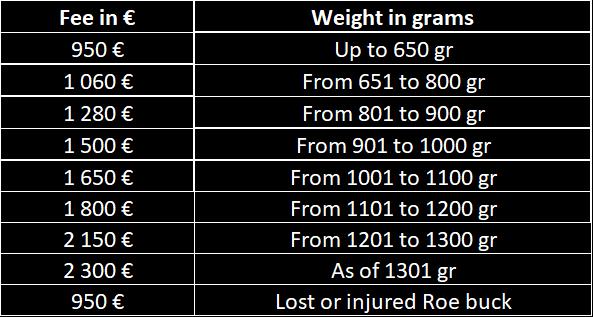 * Trophies are weighed 24 hours after shooting. If the trophy is weighed less than 24 hours after the shot 3% will be deducted from the weight indicated.
WILD BOAR SHOOTING TAXES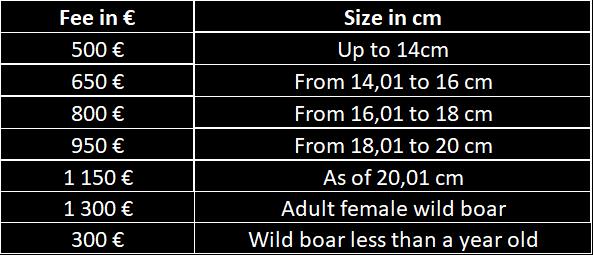 Optionnal:
The repatriation assistance, cancellation fees, luggage, interruption of stay guarantees and civil liability are offered as an option to you, consult us for more information
Personalized transfer arrangements. (€ 300 per group per trip).
Additional hunting days : 250 € / hunting day (200 € for accompanying persons)
Hotels and meals in Ekaterinburg, if necessary.
---
 PHOTO GALLERY
---