TADJIKISTAN
TRIP DETAILS 
Tajikistan is a small central Asian country bordered by Kyrgyzstan, Kazakhstan, Uzbekistan, Turkmenistan, Afghanistan and China. Its capital is Dushanbe. The Pamir mountains have breathtaking landscapes that are a must see. The Pamir route baptized the "Pamir highway" by the Anglo Saxons is a must for someone looking for a thrilling experience. Our territories are located in the regions of Murgab, Balankiik and Lake Karakul, all in the eastern part of the country. Weather wise, Tajikistan generally has good and dry weather (-10 ° C to + 15 ° C) in autumn, a good period for hunting wild boar, ibex and Argali. However, the weather above 3000 meters is often unpredictable, with the possibility of rain or snowfall at any moment during a hunt. It is not uncommon for temperatures to drop to – 25 ° in November at these altitudes.
WILD BOAR: Tajikistan is known for its large wild boar (Sus scrofa Attila), which create beautiful trophies, and can be hunted by stalking, posted and driven hunting at altitudes between 1000 and 2500 m. On average, the trophies (tusks) are between 20 and 25 cm but every year we get some measuring up to 30 cm. Large males weigh between 150 and 250 Kg. From November 1st to March 15th, boar are hunted by stalking and driven hunting during the day. From June to October, wild boar hunts mainly take place in high seats at night (full moon) in orchards and fields. Animals densities are always very good so the chances of getting 1 to 3 large wild boar trophies in 5 days are high. The hunting experience is "physically demanding" but the feeling of success brought by a large trophy shot in challenging conditions is more than worth it.
MARCO POLO: Commonly called "Marco Polo", Argali sheep are one of the largest sheep in Central Asia. Found along the Pamir mountain range and in parts of the Tian Chan, Argali sheep make exceptional trophies and weigh between 120 to 150 kg. A trophy measuring 120 to 140 cm is seen to be an average size, one measuring 140 to 158 cm is seen as a large trophy. In recent years we have had some huge trophies on our territory, measuring up to 172 cm!
Despite this being one of our more difficult hunts due to the fact that it takes place at an altitude of 3000 to 4500 meters above sea level, it is almost always fruitful as the Marco Polo are plentiful in the area. In late October and November it is possible to see several hundred animals a day! Travel in the territory is done in a Jeep. Once the Marco Polo have been spotted, the guides take out their binoculars to check for the presence of a large male. If this is the case, the final approaches are on foot, the hunting strategy depends on how the hunters preference. This hunt requires you to be in good physical condition, as the air is much thinner at these altitudes, as well as good shooting aim over great distances, (up to 400 meters) as Ibex and Marco Polo are very wary animals due to the fact that they have other predators than humans (wolves) in the area. The best period to shoot here is in November as this is when the Argali are in heat and, if there is snow, (quite frequent in November) they are found lower in altitude, which can facilitate hunting. Generally, trips consist of around 11/ 15 hunting days.
IBEX: Siberian Ibex trophies are a little smaller than those of their cousins from Kyrgyzstan, with an average horn size ranging between 100 and 110 cm, and the larger ones reaching around 120 cm. Whilst they are found in the same regions as the Marco Polo, Siberian Ibex prefer more rugged terrain and are therefore found in different, steeper valleys. Because of this, Ibex hunting takes place more on foot than the hunts for Marco Polo and requires hunters to be in good shape. From September to November, accommodation is in tents, whilst from December to February accommodation is at the camp.
BEAR AND URIAL can also be found in the area but not in the same territories.
The accommodations are rustic, they are either in one of the local homes, on a summer farm or in canvas tents. Travel is only on foot. Good physical condition is required.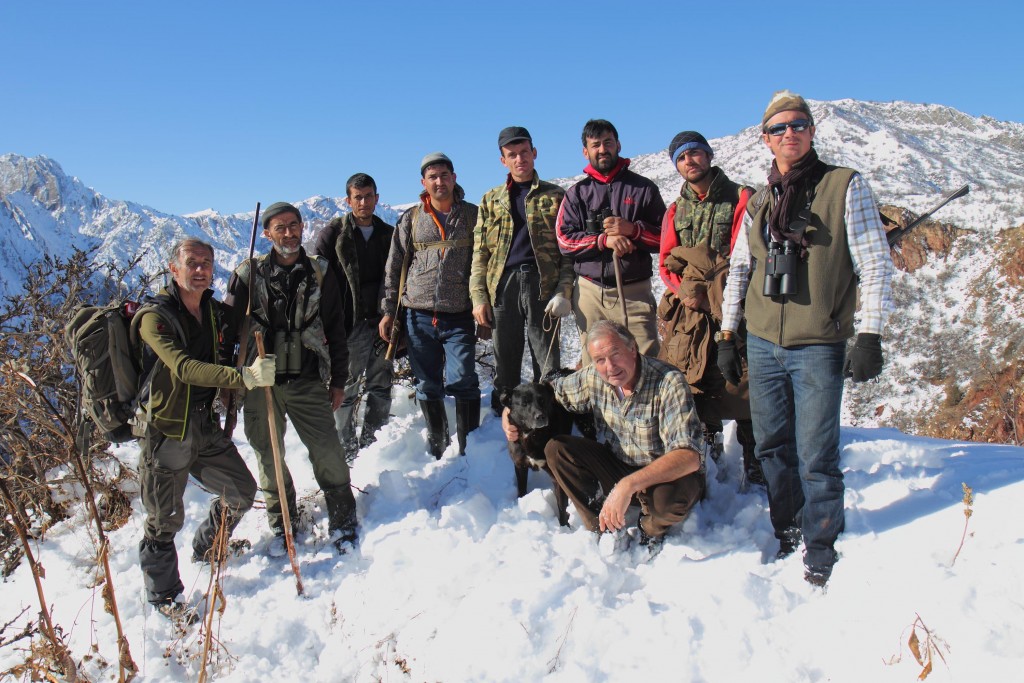 COURSE OF THE STAY
Day 1 Arrival in Dushanbe. Welcome and transfer to the hunting camp (between 3 and 12 hours depending on the game chosen).
Day 2 to 6 5 days of hunting. The number of hunting days may vary depending on flight availability.
Day 7 Return to Dushambe, overnight at the hotel.
Day 8 Departure from Dushanbe
FORMALITIES
A passport valid for at least 6 months and the European Firearms card are required, the visa can be made online via this website: www.visa.gov.tj for visas issued on arrival and www.evisa.tj for electronic visas.
.
---
PRICES TADJIKISTAN 2020-2021


Prices include:
Reception at the airport.
The transfer from Dushanbe to the Hunting Zone.
All trips to the hunting area.
Accommodation and meals during the hunting trip.
Soft drinks.
Services of one to two guides per hunter.
The preparation of trophies on the hunting camp.
Formalities such as hunting license and weapon import license..
These prices do not include:
The return plane ticket to Dushambe, excess baggage.
RC Hunting insurance for Tajikistan.
The electronic visa, approx. 50 €.
Personal expenses.
The hotel and meals outside the hunting area (generally 1 night on the way back).
Tips (around 150 to 200 € per hunter),
The wild boar tax: € 550 between 17 and 19.9 cm, € 800 between 20 and 24.9 cm, € 950 from 25 cm. € 200 for any young, females or injured wild boar.
 Optional:
Assistance guarantees – repatriation, cancellation costs, luggage, interruption of stay and civil liability. Consult us.
Dip and pack of trophies if shipping needed.
The repatriation of trophies (to be paid to your forwarder), if shipping needed.
VIP reception at the airport (90 €).
The preparation of the cape of a boar (50 €), not always possible.
The services of an interpreter per camp.
The rental of a rifle if necessary (150 € per stay, ammunition included).
The services of a GP guide. Upon quotation.
Formalities:
A passport valid for at least 6 months and the European Firearms card are required, the visa can be made online via this website: www.visa.gov.tj for visas issued on arrival and www.evisa.tj for electronic visas.
TERMS AND CONDITIONS OF SALE
Booking: a booking is only considered confirmed upon payment of a deposit of 50% of the price of the trip. The balance of 50% should be paid in its entirety 90 days before the date of departure.
Cancellation: any cancellation more than 90 days before departure will result in the withholding of the deposit. Within 90 days of the date of departure, no refund will be granted. The passenger can take additional cancellation insurance (please consult us).
Deposits: from the reservation date to 90 days before departure = 50% of costs.
from 89 days to the date of departure = 100% charge.
Insurance: Repatriation assistance, cancellation fees, luggage, interruption of stay and civil liability cover can be offered. Please contact us for these insurances.
Prices: Our rates have been established for the 2020-2021 hunting season.
---
PHOTOS GALLERY
---
Contact-us                                  Back to Hunting Trips