TRIP DETAILS
Zambia, formerly called North Rhodesia has a mere 11 million inhabitants for 744,000 km2. With a tropical climate tempered by altitude, formed mainly of hills and plateaus, Zambia, along with Tanzania, is one of the last African countries in which big game hunting is practiced successfully in large, wild expanses.
We hunt in several territories, notably on a 300 000 ha piece of land with a 25km long border with the Kafue National Park! A variety of species can be found here : Lions, Leopards, Cape buffalo, Sable antelope, Crocodile, Hippo, Greater kudu, Bushbuck, Bushpig, Duiker, Cape grysbok, Hartebeest, Hyena, Impala, Oribi, Puku, Reedbuck, Defassa waterbuck (Crawshays), Zebra and Warthog!
The recently renovated and very comfortable camp is located on the banks of the Kafue River where it is also possible to fish. The quality of food here is one rarely reached by other hunting camps!
The hunting period begins on the 1st of May and ends in November. If you are looking to hunt Lion and Leopard, we recommend you come between May and August. For Buffalo and plain game we recommend August to October.
TRANSPORT
You will have to get to Lusaka via Johannesburg, Adis ababa or Nairobi (consult us). Once you arrive in Lusaka, our team will welcome you and guide you through the procedures until the departure of the domestic flight which will take you to the hunting area (45 min flight).
ACCOMODATION & TRANSPORT
The camps have kept the all the African charm of yesteryear whilst retaining modern comfort. The tents are spacious, completely airtight and are suitable for two people. A large bathroom and toilet can be found at the back of the tent. Each camp also contains a fridge, freezer, with power coming from solar panels or generators. Electrical outlets (220 V) and WIFI are available in all camps. A Toyota Land Cruiser equipped with hunting gear will be available to you.
The airstrip is about 1.5 hours from the camp.
WEAPONS & AMMUNITIONS
A bolt-action rifle is ideal, possibly. Recommended caliber 375 H.H or equivalent, 416 rigby and above only for regulars. Soft-tip bullets (300 grains) mostly and armored (5 to 10 max.), Same brand of bullet for the entire stay. The rifle should preferably be equipped with a telescopic sight with good luminosity and sighted in beforehand by a gunsmith.
A poorly adjusted telescope can turn your safari into a nightmare!
We strongly advise you to practice shooting before your trip, ideally practicing using a shooting stick which we recommend you using during your stay.
HEALTH & FORMALITIES
Yellow fever vaccine compulsory. Antimalarial treatments and tetanus shots are strongly recommended.
A large pharmaceutical kit and many medicines are also available in all the camps, but if you take any medication it is essential that you bring it with you as we cannot guarantee that we will have it.
Anti-mosquito or tsetse products (spray or cream) are recommended, as is medication used to treat a possible reaction to bites as mosquitos and tsetse flies are present in the area.
Passport compulsory with a minimum validity of 6 months.
TRIP EXTENSIONS
Our Adventure Safari department can organize an extension for your trip in order to allow you to visit the many and famous national parks of Zambia, Namibia and Botswana (Okavango), as well as the world renowned Victoria Falls.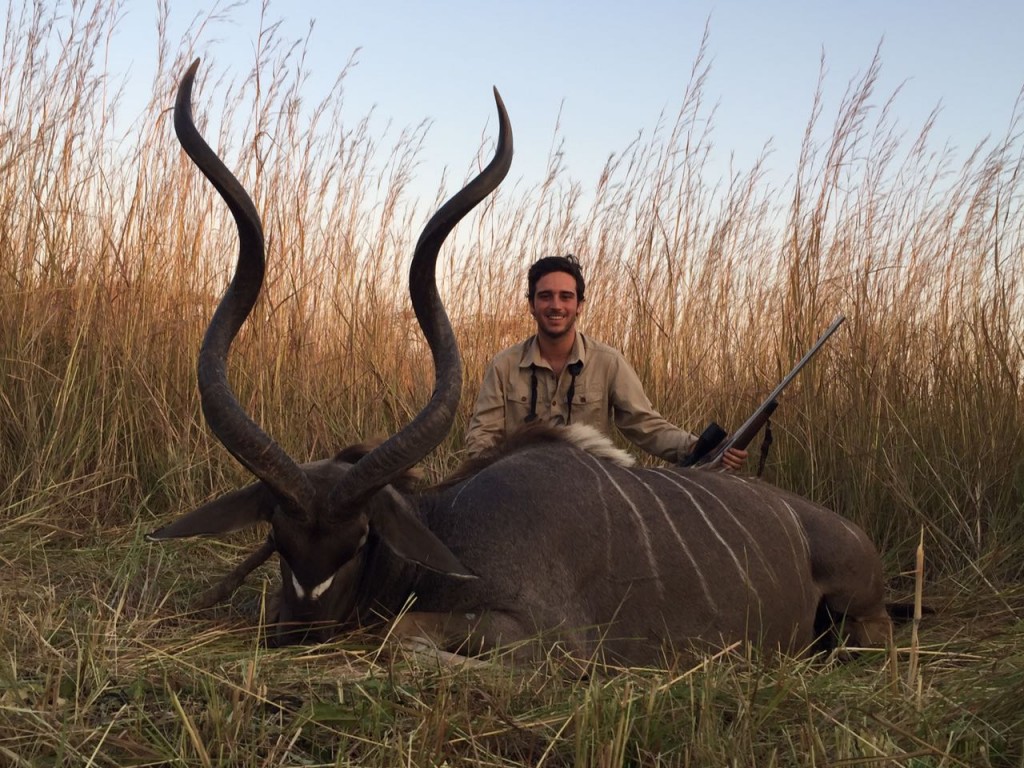 ---
TARIFS 2021 ZAMBIA KAFUE
Our rates (established on December 1, 2020) were calculated based on an estimated US dollar rate of € 1 = US $ 1.15. In the event that the price of this currency on the date of your payment is different from that indicated above, we will modify our prices accordingly.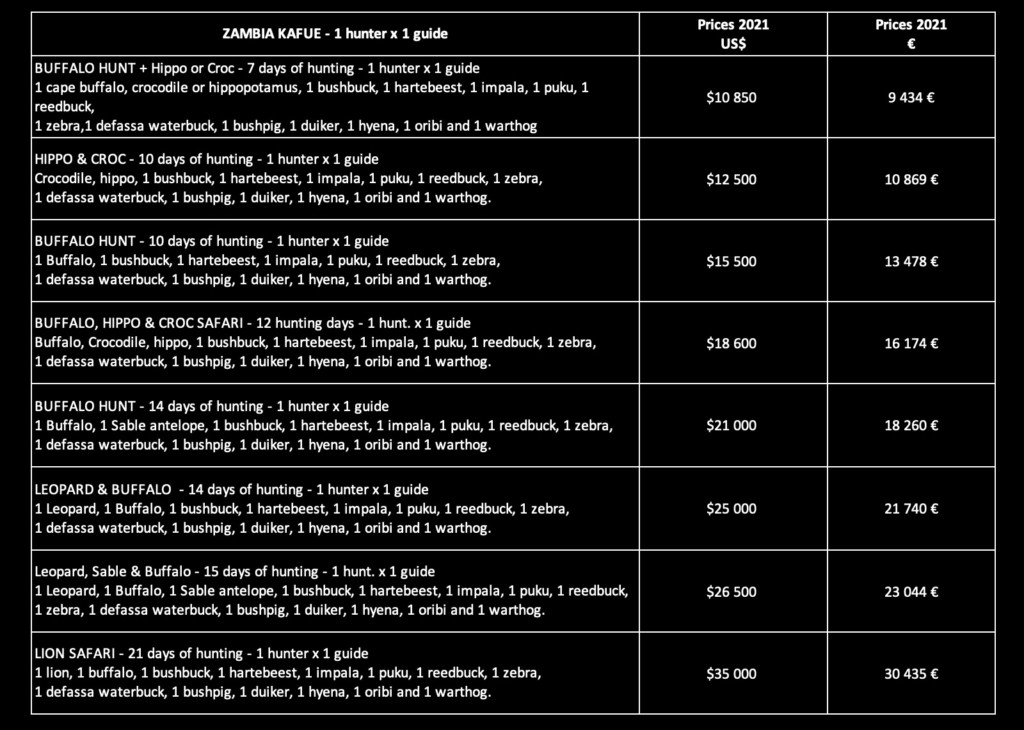 Services included in our package:
The organization of the entire safari with full board accommodation for the duration of the stay in "English-style" safari tents, daily laundry, and camp staff,
Travel in the hunting area in a 4 x 4 "hunting" pick-up vehicle,
An experienced professional hunting guide with a Zambian hunting guide diploma, two or three trackers, one of whom also acts as a water carrier.
Alcoholic drinks (in moderation), water and soda.
Zambian gun import permit,
Welcome at Lusaka airport.
Services not included in our package:
Hunting liability insurance (compulsory).
Return air transport to Lusaka. (around 1000 €) and visa on arrival: 50 US $
The return air transfer from Lusaka to the camp: 3000 US $ round trip for 4 to 5 passengers. (2020 rate) US $ 3,800 round trip for 8 to 9 passengers. (2020 rate)
Or transfer by car: US $ 700 per trip. (2019 rate)
Import tax on ammunition. (US $ 4 per bullet). To be paid at the airport.
GMA permit: $ 4,500 for Buffalo, Hippo, Crocodile safaris, $ 9,000 for Leopard safaris, $ 16,500 for Lion safari.
Tips (depending on your level of satisfaction).
Hotel, restaurant, taxi before and after the safari. (if you spend 1 night in Lusaka)
Initial preparation of trophies, transport of trophies to Lusaka, storage of trophies in Lusaka, processing, formalities, packaging and crate of trophies: approximately $ 1500, depending on volume.
CITES permit: $ 150 for leopard or crocodile
Transport of trophies from Lusaka. To be paid directly to the freight forwarder.
Trophy fees, in US $, see table below (2020 prices):
:
SHOOTING TAX (US $)

The 2nd specimen of the same species will be charged the same shooting tax x 1.5, for example an impala will cost $ 675.
A missed shot on a lion or leopard entails the payment of 50% of the shooting tax.
.
Optional:
Photo Safari extension and / or Victoria Falls extension if desired.
Repatriation assistance guarantees, cancellation costs, luggage, interruption of stay and civil liability are available to you (Contact us)
Weapon rental (US $ 75 per day + ammunition), only if needed.
Accompanying person: $ 300 per day. Air transport, visa and insurance not included.
Aid for the fight against poaching: $ 300 per hunter. Only if you want to participate.
Additional vehicle for bait checking: US $ 300 / day.
TERMS AND CONDITIONS OF SALE
Booking: a booking is only considered confirmed upon payment of a deposit of 50% of the price of the trip. The balance of 50% should be paid in its entirety 90 days before the date of departure.
Rules: The trophy fees, permits, transfers, the first preparation of the trophies and tips must be paid on site at the end of the stay or before the safari by bank transfer.
Licenses & taxes: The Zambian government can decide at any time to increase shooting taxes, hunting licenses, weapons import licenses, VAT, … or to create new taxes. In this case, the hunter has an obligation to pay the new taxes.
Cancellation: any cancellation more than 90 days before departure will result in the withholding of the deposit. Within 90 days of the date of departure, no refund will be granted. The passenger can take additional cancellation insurance (please consult us).
Deposits: from the reservation date to 90 days before departure = 50% of costs.
from 89 days to the date of departure = 100% charge.
Insurance: Repatriation assistance, cancellation fees, luggage, interruption of stay and civil liability cover can be offered. Please contact us for these insurances.
Prices: our rates have been established for the 2020 hunting season.
---
PHOTOS GALLERY
---