BELARUS
TRIP DETAILS
Ever since our first trip here, we as fellow hunters have fallen in love with Belarus!
Located in the eastern Europe and with no access to the ocean, Belarus is bordered on its western perimeter by Poland, by Latvia and Lithuania in the north, by Russia in the east and Ukraine in the south. Belarus has been allowed to maintain much of its natural beauty over the years, with 40% of the country covered by forests, many of which are primary forests in which animal and plant species that have disappeared in the rest of Europe live peacefully.
With vast plains covering much of the landscape and a continental climate, the main resources of the country are agriculture and industry.
The fauna is rich and you can find, amongst other animal species, red stag, European moose, wild boar, roe deer, wolves, bison and a wonderful diversity of small game and waterfowl.
The combination of the fact that the area has not yet been fully explored by hunters, and the vast expanses of territory, some of which are extremely difficult to get to, creates an exhilarating atmosphere in which it is possible that at any given moment you may see a truly remarkable animal.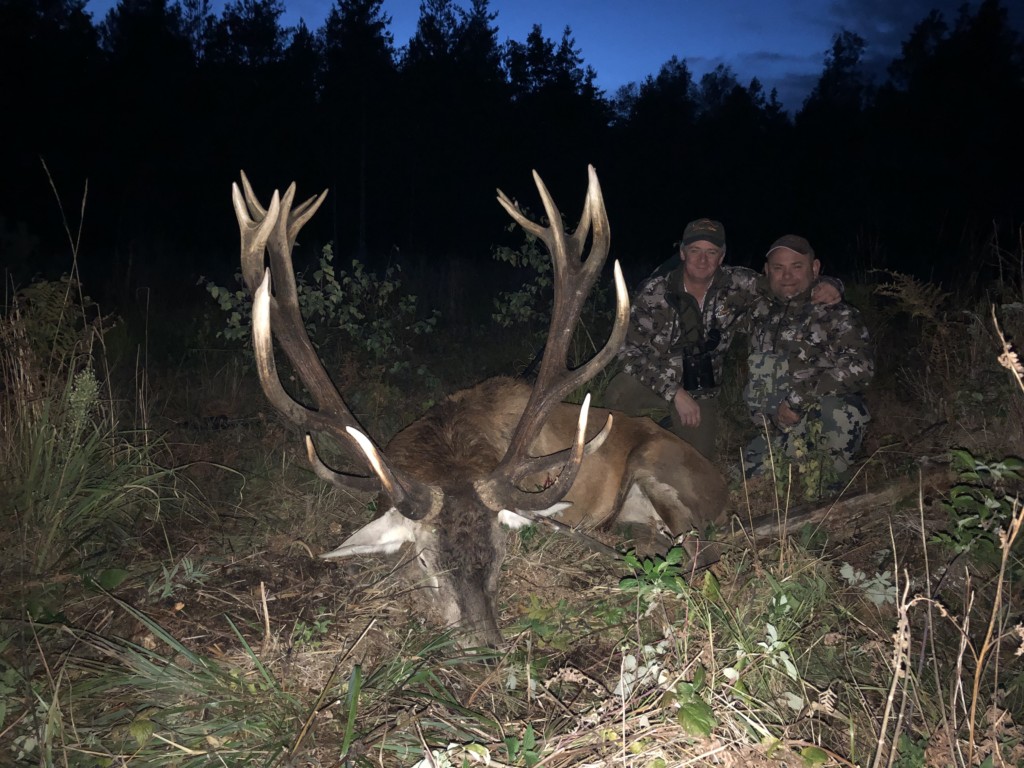 Gold medal Red Stag, 11 Kg, hunted in September 2019 during the shooting of a film for the Seasons channel.
---
GETTING TO BELARUS
Belavia offers direct flights from many European capital. Upon arrival our interpreter will greet you, accompany you through the formalities and bring you to your hotel or hunting lodge (3 hour drive maximum).
HUNTING
The hunter is picked up by car by his guide from the lodge and then either goes stalking or sits in a high seat according to their preference. Each hunter is accompanied by a guide. Two outings take place per hunting day, one in the morning and one in the evening, each outing lasts 3 to 4 hours.
WEAPONS AND AMMUNITION
A bolt-action rifle is ideal, recommended caliber: 300 WM, 300 Weatherby, 8 x 68 S, 9.3 x 62, 7RM or equivalent. Soft-tip bullets should be used, and enough taken for the duration of the stay. The rifle should preferably be equipped with a telescopic sight with good luminosity and sighted in beforehand by a gunsmith. We strongly advise you to practice shooting before your stay, ideally practicing using a shooting stick which we recommend you using during your stay.
HUNTING SEASONS
The moose and red stag hunting season opens on the 20th of August, however September remains the best time period to come as it is when the rut takes place. It is possible to hunt both species during the same stay and on the same territory. The best season to hunt Roe Deer is when the season opens on May 15th and during the rut from July 20th to August 10th. Wild boar and wolves can be hunted year- round.
TROPHY REPATRIATION
Our team will sort out all of the documents and the shipping of trophies to your taxidermist.
HEALTH AND VACCINES
No vaccines are needed, however, if you take any medication it is essential that you bring it with you as we cannot guarantee that any medication will be available locally.
FORMALITIES
It is imperative to hold a valid passport. Your passport must have a minimum of three months of validity after your arrival in Minsk. Before you leave, check that your passport will be valid for the entirety of your stay. An RC hunting insurance valid for Belarus is compulsory.
A valid European firearm card and a valid hunting license are required. Check that your weapon numbers correspond to your European card, there have been many errors made by the administration that we have found in the past! Before departure, you will need to send us: a photocopy or scan of: your RC hunting insurance for Belarus, your passport, your European firearms card and the serial numbers, brand, caliber of your weapon.
Visas are not required for stays under a month long (depend which country you come from), on the condition that you arrive and leave by plane via Minsk.


ACCOMODATION / MEALS
You will be accommodated in hunting houses located directly on the territory or in nearby hotels, generally in a single room, sometimes in a double room. Each bedroom has an en suite bathroom.
---
PRICELIST 2021
1 Hunter / 1 Guide

In order to have a good chance of hunting a large stag or moose, we advise a trip of 4/5 days. 
Rates vary slightly from one territory to another, not all territories are indicated on this documentation.
Stag shooting fees (weight of skull with antlers) – Hunting open from August 20th to January 31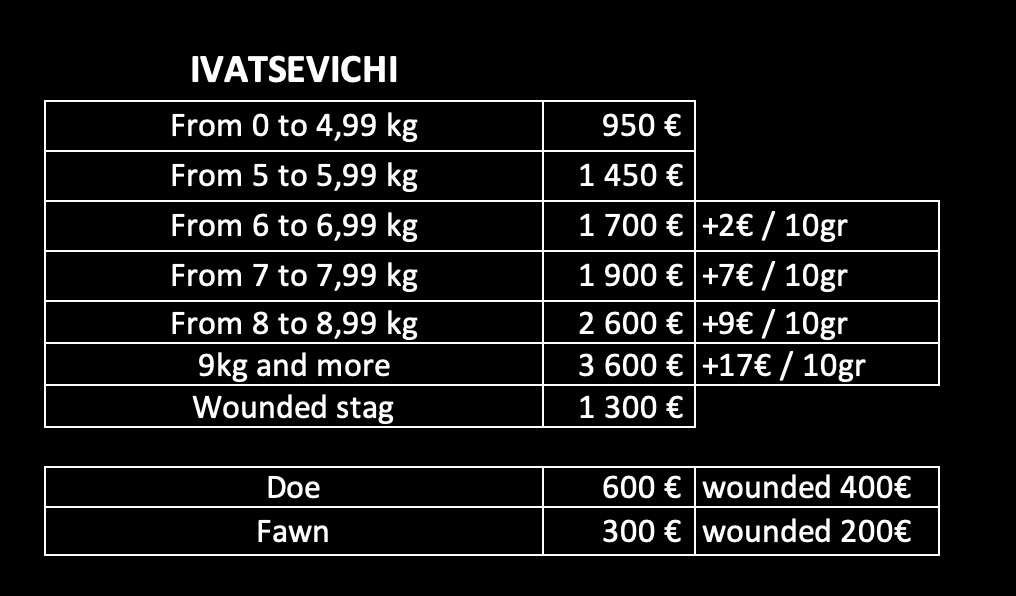 Moose shooting fees (weight of skull with antlers) – Hunting open from August 20th to December 31st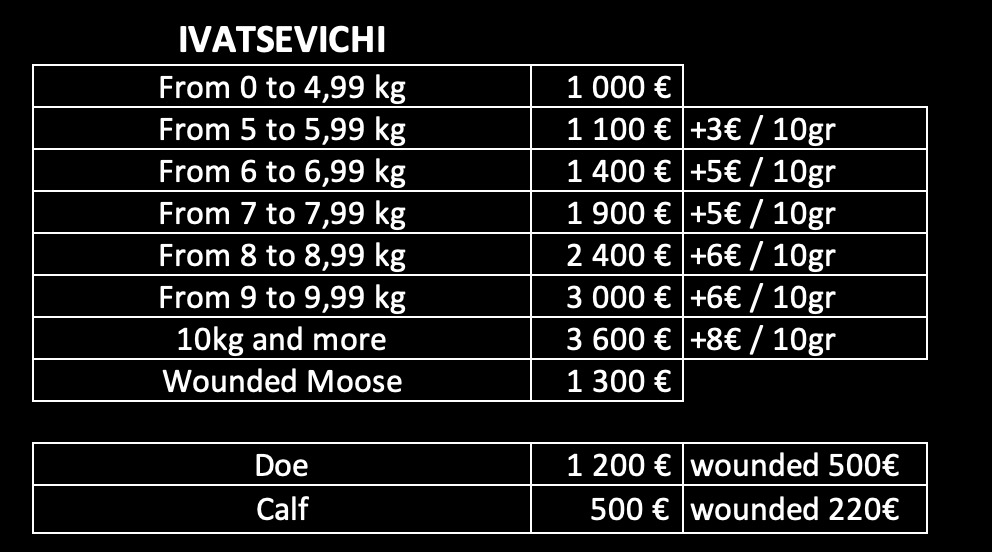 Roe Deer shooting fees (weight of skull with antlers) – Hunting open from May 15th to December 31st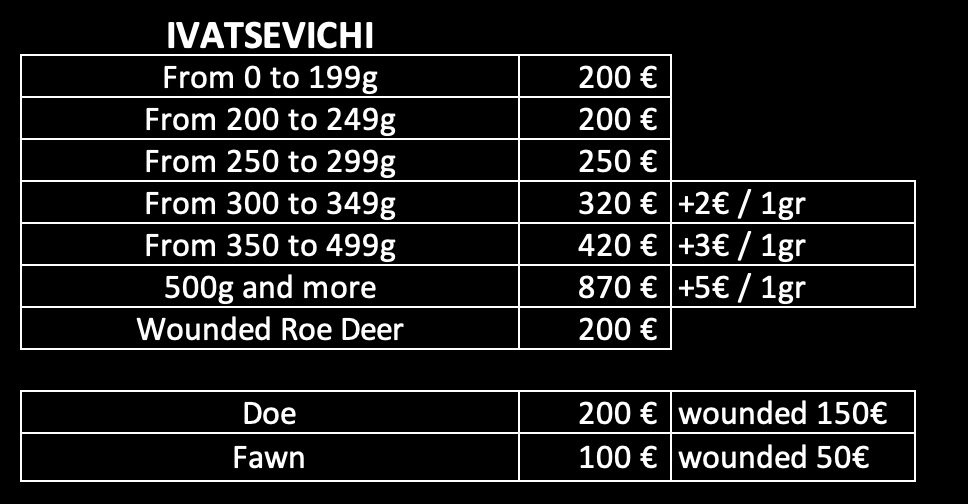 Price includes:
Welcome at the Minsk airport.
The services of an interpreter for the duration of the stay.
Organisation of the hunt
Full board Accommodation
Transport between accommodation and hunting area
Transfer between Minsk airport and your accommodation
Transport around the hunting area
1 professional hunter for each hunter
Belarus Hunting license
Belarus weapon import permit
  Price do not include:
Hunting insurance for civil responsability
Flights to Minsk
Drinks
Tips
Trophy fees for every animal killed or wounded
Trophy preparation: 25 to 50 euros depending on the trophy and the territory
Documentation, controls, vet certificates, dip and pack trophies to the final destination and customs clearance.
    Option:
Rifle rent (50 to 100 euros per day + ammo).
Taxidermy
Additional hunting trips on arrival day, departure day or night outings: 100 euros
Assistance guarantees – repatriation, cancellation costs, luggage, interruption of stay, air delay and civil liability.
To hunt on the BP territory, you need to add 80 euros / day of hunting.
TERMS AND CONDITIONS OF SALE
Booking: a booking is only considered confirmed upon payment of a deposit of 50% of the price of the trip. The balance of 50% should be paid in its entirety 90 days before the date of departure.
Cancellation: any cancellation more than 90 days before departure will result in the withholding of the deposit. Within 90 days of the date of departure, no refund will be granted. The passenger can take additional cancellation insurance (please consult us).
Trophy Fees : a deposit of 50% of the desired trophy fee will be requested one month before the start of the hunt, the balance within 15 days of receiving the invoice. In case of failure to shoot the deposit will be fully refunded.
Insurance: Repatriation assistance, cancellation fees, luggage, interruption of stay and civil liability cover can be offered. Please contact us for these insurances.
Prices: our rates have been established for the 2021-2022 hunting season.
---
PHOTO GALLERY