TRIP DETAILS
DUCKS, GEESE, DOVES, SANDGROUSE… AND WARTHOGS
You will not find a better place in Senegal!
An abundance of varied game, carefully managed hunting areas, experienced guides and trackers, two magnificent lodges, fine cuisine, an organization with 20 years of experience where no detail of your stay has been left to chance.
GAME AND HUNTING SEASON
When it is winter, in the north of the country, a few kilometers from the city of Saint-Louis, a large expanse of wetlands are the home to a variety of waders (greater yellowleg, snipe, godwit etc…) and anatidae. There are sedentary varieties: wigeon, black bellied whistling duck, Gambian geese (armed duck), Egyptian geese, and helmeted ducks but also migratory species, mainly summer teals, but if you are lucky you may also see northern pintails and northern shovelers.
It is also possible to hunt doves (in very large numbers), pigeons, sandgrouse, and hares. Francolins and quail can also be found on occasion.
Warthog, the only "medium sized game", can be found in large densities in the area. Warthog can be hunted by stalking, posted and driven hunting. A patient hunter will be able to take home a nice trophy. Shooting females is forbidden.
The hunting season for water game and shorebirds is from December 10th to March 15th, and that of turtledoves, sandgrouse, hares, pigeons, roniers, quail and warthogs is from early December to late April (subject to change by the Senegalese authorities).
HUNTING TERRITORIES
The hunting territories cover an area of 85,000 hectares.
Due to their relative proximity to each other (1 hour 30 minutes transfer by road between the most remote areas), you have the option of experiencing a 'mixed' trip between the different locations.
The "Trois Marigots" hunting area covers an area of 11,000 hectares and is bordered by the Atlantic Ocean in the west, the Mauritanian desert in the north and the N'Diael basin et the east (wetland classified by the Ramsar Convention and sponsored by the ANCGE). It is made up of different landscapes: marshes, wetlands, flooded pastures and wooded savannahs, and is bordered by a tributary of the Senegal River. This hunting area also includes three large lakes, each over 10 km long and located between 15 minutes and 45 minutes by car from the Lodge.
The Taweh hunting area on the edge of the Djouj park gives you the opportunity to diversify your stay and allows you to better manage the hunting of anatidae. Some wonderful warthog trophies can also be found there.
The Djouj National Bird Park is located about sixty kilometers north of Saint-Louis. With an area of 160 km2, the park is the third largest bird sanctuary in the world: paradise for migratory birds. Created in 1971, the National Bird Park of Djouj (PNOD) has been classified as a World Heritage by Unesco since 1981.
Lake Guiers: Lake Guiers is a freshwater lake located in northern Senegal, in the upper delta of the Senegal river. Despite being less known than Lake Rose, Lake Guiers is in fact the largest lake in the country (length: 35 km, width: 8 km, area: 170 km2). This beautiful location allows for wonderful days for hunting turtledoves, pigeons and sandgrouse.
COURSE OF THE STAY
Day 1: Arrival in Dakar, reception, customs clearance of weapons, transfer from the airport to Saint-Louis (about 4 hours), in most cases you arrive late evening.
Day 2: time to rest, settle in in the morning, hunting in the afternoon.
Day 3 to 6: 4 days of hunting, morning and afternoon.
Day 7: Hunting in the morning. Departure for Dakar airport after lunch. Formalities of departure followed by flight home.
Day 8: Arrival in your country.
.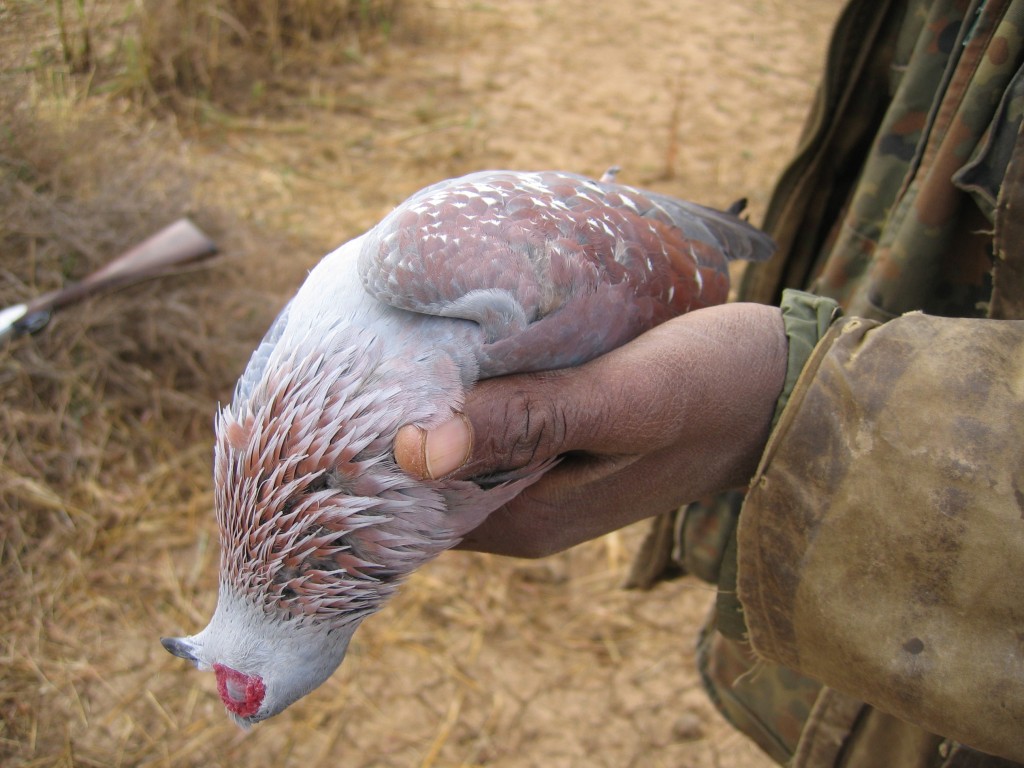 ORGANISATION OF THE HUNT
Walked up and small groups: Snipe and Shorebirds, Pigeons, African hares, Quail, Hare and Doves.
At a post and individually: Wood Doves, Collared Doves, Sandgrouse and Pigeons. Around water points, in the morning around 10 a.m.
Duck flighting: All of the Anatidae and more particularly teals from a fixed hide or walked up in the mornings and evenings.
By stalking or from stands: Warthogs. With your tracker, by stalking or tracking; you will get up early in the morning and wait at the edge of the fields to ambush the warthogs before they return to where they sleep.
In the morning you will hunt fowl walked up or posted or will hunt warthog. Your will return to the lodge for lunch and go out to hunt again in the late afternoon. If you are going to Lake Guiers to hunt Sandgrouse and Turtledoves, it is better to leave for the whole day with a picnic lunch. Every evening we meet with the hunters in order to discuss what they would like to do the following day, we do everything we can to meet your wishes.
ACCOMODATION
Two Lodges can be found on the territory as it allows us to always be as close to the hunting locations as possible.
20 minutes from Saint-Louis, you will be staying in a green oasis. The Lodge has 24 rooms, all equipped with an en suite bathroom and air conditioning. The lodge is built in a tropical paradise, giving you the perfect place for a relaxing lounge by the pool or drink at the bar after a busy day of hunting. You will be served traditional French cuisine of the highest quality in the panoramic restaurant "Le Thioubalo".
1h30 from Saint-Louis, at the edge of the Djouj national bird park is the Taweh lodge. Here you will be staying in a Lodge with Mauritanian tents on stilts, in the style of a South African camp. There are with 7 bedrooms (14 people). The camp overlooks a beautiful river and serves delicious food.
NON HUNTING ACTIVITIES
For accompanying persons, in addition to the swimming pool and the tennis court at the lodge, there will be the possibility of visiting Saint Louis in a horse-drawn carriage. There they will be able to explore the local markets as well as the Fulani villages. They will also have the opportunity to discover Lake Guiers and the Djouj National Park as well as having the opportunity of canoeing on the river or going horseback riding. These different extensions will be offered on site.
Nearer the lodge, you can visit the Dama reserve, where you will find endemic species of West Africa: Savanna Buffalo, Roan Antelope, Dorcas gazelle, Red fronted gazelle, Scimitar-horned oryx, Warthog…
---
PRICES & TERMS 2020 / 2021
5 hunting days / 6 nights at our Lodge 
10 HUNTING SESSIONS

Services included in our package:
Reception and assistance at the airport for customs and other formalities on arrival and departure
Full board accommodation, single or double room for 6 nights.
The complete organization of 10 hunting sessions
The assistance of one tracker /game carrier per hunter
Travel to hunting areas by 4X4 vehicle
Daily laundry of clothes
Services not included in our package to be paid before departure:
Air transport to Dakar (from € 600)
Any excess baggage
Hunting liability insurance (it must cover Senegal for the period of your stay)
Services not included in our package to be paid on site:
Airport transfers from Dakar / Lodge and back (€ 120 return) *
Drinks (from the bar and during dinner)
Tips (around 100 euros) and personal expenses
Ammunition: € 0.60 per cartridge
The trophy fee of the 1st warthog 120 €, the 2nd 250 € and the 3rd 400 €
Hunting permit and gun license (€ 250: small game and warthog / € 350: Waterfowl, small game and warthog).
Touristic ventures
Additional hunting day (2 hunting trips and 1 night included): 350 Euros
To note:Please note that if you are interested in this program, we recommend that you reserve your seat very early. The flights sell out quickly during the hunting season.
* For your transfers to and from Dakar airport in Saint-Louis. The reservation of a taxi or minibus will be made by our correspondent and will be waiting for you at the airport. Price: 120 € round trip This amount will be paid directly on site.
TERMS AND CONDITIONS
Registration: Registration is only final when accompanied by a deposit of 50% minimum of the travel price, the balance must be paid in full 90 days before the date set for departure.
Cancellation: Any cancellation occurring more than 90 days before the departure date will result in the retention of 50% of the price of the stay (amount of the deposit). Between 90 days and the day of departure, no refund will be given. In every case, the passenger will be able to claim "cancellation" insurance, if this has been taken.
Guarantee scale: From the reservation date to 90 days before departure = 50% of costs. From 89 days to the date of departure = 100% charge.
Insurance: You have the option of taking insurance to cover: repatriation, cancellation, loss of luggage, interruption of stay and civil liabilities.
Price: Our prices are valid for the hunting season 2020/2021.
---
FURTHER INFORMATIONS
Weapons and ammunition We recommend that you take your own shotgun. There is also no problem with the 12, 16, 20 or even 28 bore shotguns.Ammunition will be provided by the camp manager, at a rate of € 0.60 per cartridge.

For warthog hunting, we recommend all calibers from 7 mm (rifle equipped with scope with variable magnification if possible). You can take 1 box of ammunition with you, as well as some Brenneke/type (solid slug) for your 12 bore, although this may slightly reduce your chances of shooting as you have to get fairly close to the animal.
For people who do not wish to take their rifle, there is the possibility of renting one on site. (Caliber 7X64) equipped with telescopic sight. Please note: we only have one !

We do not recommend that you bring a soft case for car travel around the hunting area as a rigid case provides far better protection.

We remind you that your weapons must be transported in a rigid suitcase on the international flight. For rifle ammunition, it is necessary to comply with the law: it must travel in a small, closed suitcase, separate from the weapon.

Please note: automatic and semi-automatic weapons along with the import of hunting cartridges are strictly prohibited in Senegal.

Clothing Plan hunting outfits: DPM, trousers in neutral colors (preferably made of canvas, avoid synthetic fabrics), a hunting vest, cartridge belt or cartridge bag, canvas shoes, gaiters, hat, waders or shorts, thin socks, preferably cotton shirts, jumper and fleece for cool mornings and evenings.
You do not need to pack a lot of clothes as a daily laundry service is at your disposal. A complete packing list will be sent to you with your travel book.

Change The currency in Senegal is the CFA Franc (1 € = 655 F CFA), but Euros are accepted. You will have the possibility of exchanging your Euros (in cash) to CFA Francs at the hunting lodge. You will also be able to withdraw money with an international credit card at an ATM in Saint Louis
Formalities European nationals must have a valid passport and European firearms card. The visa is made upon your arrival at the airport.Before their departure, hunters will receive an import form for firearms to be completed and returned to us, so that we can do the administrative procedures necessary to obtain their hunting license and gun license (payable locally). We will also need 2 ID photos and your worldwide hunting insurance certificate.
Health Vaccinations against yellow fever and tetanus and an antimalarial treatment are strongly recommended but not compulsory.
Assurances You must take out "hunting civil liability" insurance covering the period of your hunting stay in Senegal. We will ask you to provide us with a certificate of this insurance.We strongly recommend that you take a cancellation and repatriation insurance.
Transports Transport by 4×4 vehicle on the hunting area
---
PHOTO GALLERY
---
PRESS REVIEW (Fr) : SENEGAL reportade C de la Chasse
---
Contact-us                                  Back to Hunting Trips