ROE DEER in SERBIA
TRIP DETAILS
Serbia is one of the countries that used to form Yugoslavia. The people are very friendly and tourists are always welcomed with open arms due to the historical links with Europe. Belgrade is only a 2h20 flight from Paris, Madrid or Frankfurt !
GP has seen the potential in Serbia for a long time (since 2008) and have had an extremely successful first 12 hunting seasons (2008-2019). GP can therefor confidently confirm that Serbia has all the same qualities as its famed neighbors: Hungary, Romania and Bulgaria. Thanks to our growing number of hunting clientele every year, GP has becoming a major hunting organization in Serbia, giving us a rich and vast selection of territories at our disposal.
Hunting excursions take place early in the morning at dawn and in the late afternoon until nightfall, when Roe Buck are the most active. It should be noted that until April the 15th, the sun rises at around 6am and sets at around 8pm. Depending on the hunting style you pick (stalking or in a high seat) you will generally see between 3 and 15 Roe Buck per outing.
The Roe Buck hunting season opens from the 15th of April to the 30th of September, but the best hunting period takes place between the 15th of April and the 1st of May as the vegetation is less overgrown, providing better visibility. Furthermore, this is the opening of the season, meaning the game is less cautious as they have not been hunted for several months. The other good hunting period is of course from the last week of July and the first week of august, during the rut.
The landscape varies depending on the region you are in. The Vojvodine region (in the North) has a landscape composed of fields, open plains, marshes and small groves. In the South of Belgrade, the landscape contains more forests and hilly terrain. There are also plains and groves in this region.
In Serbia, an adult Roe Buck has an average trophy size weighing between 250 and 400 grams, but larger trophies are not rare and trophies exceeding 600 grams are hunted every year. It is up to you to make your objectives when reserving the trip, these will later be confirmed with your hunting guide on site. We will look for you the territory and accommodation that best suits your wishes.
You will find two movies captured in Serbia on our YouTube channel and also an article about us in revue Connaissance de la chasse, numéro 406.
TRAVEL TO SERBIA
In order to get to Serbia, you have the choice of either taking the plane at reasonable prices or driving for those who prefer the road.
After the flight and the customs clearance of your weapons, our partners welcome you at the airport and will transfer you to the accommodation that you will be staying in for the duration of the stay. If you arrive early enough, it will be possible for you to hunt as of the first evening.
ACCOMODATION
Accommodation is usually in a hotel close to the hunting area and sometimes in a hunting lodge on the edge or within the hunting zone.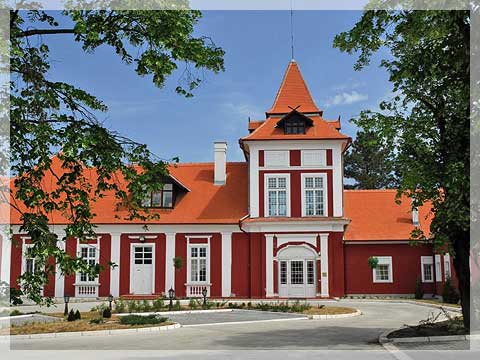 HUNTING
The hunter leaves the accommodation by car and proceeds to stalk and/or go to a high seat depending on preference. Each hunter is accompanied by a guide. In Serbia, most hunting is done by stalking and territories with a good selection of high seats are rare.
Depending on the territory you are on, you might have the opportunity to shoot wild boar (rare). The proximity to the Carpathians means wild boar in the area are large in size.
Hunting seasons : Roe Deer : From April 15th to September 30th
Wild Boar : From May 1st to January 31st. The hunting of male wild boar weighing over 60 kg is
Open year-round.
WEAPONS AND  AMMUNITIONS
A bolt-action rifle is ideal, recommended caliber: 243 WM, 7RM, 300 WM or equivalent. Soft-tip bullets should be used, and enough taken for the duration of the stay.
The rifle should preferably be equipped with a telescopic sight with good luminosity and sighted in beforehand by a gunsmith. We strongly advise you to practice shooting before your stay, ideally practicing using a shooting stick which we recommend you using during your stay. Before your first outing, we recommend that you shoot one or two shots on a target in order to ensure your rifle is sited in correctly.
REPATRIATION OF TROPHIES
European laws prohibit the import of animal heads or skins which have not had a minimum of 15 days to dry. We therefor recommend that you do not take your trophies back with you as customs may confiscate and destroy them.
We offer to repatriate your trophies after your stay and will try to "group" as many trophies as possible to limit the cost of shipping (3 to 6 months delay).
---
PRICE LIST 2020

* This rate may vary slightly depending on your accommodation.
When making your reservation, you will be asked how many Roe Deer you wish to hunt. A deposit of shooting taxes worth €200 per animal will be made and charged within 7 day after receipt of the final invoice.
Services included in our package:
Reception at Belgrade airport and return transfer from the airport to the hunting area.
The entire organization of the trip with full board accommodation for the duration of the chosen stay.
Travel between the accommodation and the hunting area.
Transport inside the hunting area.
The Serbian hunting license.
The organization of the hunting with a guide for each hunter.
The initial preparation of the trophies. (skull)
Services not included in our package:
Air transport Paris (or other starting points) – Belgrade Round trip on regular flight in economy class (from 200 €)
Hunting liability insurance valid for Serbia: (provide us with a certificate)
Formalities, packaging, transport of trophies to final destination. (around 30 € / trophy inside Europe)
Weapon import license (25 € / weapon, to be paid at the airport).
Tips, drinks and personal expenses,
Trophy Fees, according to the scale below:
ROE DEER TROPHY FEES (Dependent on the weight of the skull with the antlers – 90gr)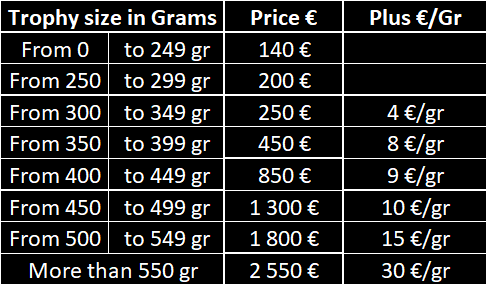 WILD BOAR TROPHY FEES (Dependent on the length of the tusks)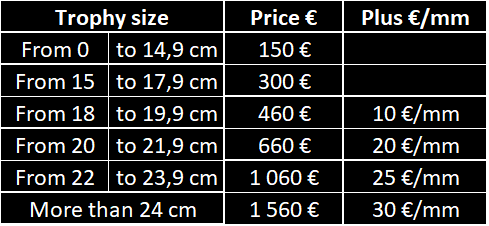 For the Roe Deer: The trophy estimation commission takes into account the weight of the antlers with the whole skull, 24 hours after cooking, with a weight reduction set by the commission, generally 90 g.
Female and young, cost 60 euros each from November 15 to January 31.
In case of injured animal: payment of 50% of the trophy price estimated by the guide.
Optionnal:
The repatriation assistance guarantees, cancellation fees, luggage, interruption of stay guarentees.
Interpreter (if needed): 100 Euros per day, to be divided by the number of hunters present.
Rental of a rifle if needed: 30 € per day + ammunition.
Additional outing (day of arrival or day of departure) : 85 €
TERMS AND CONDITIONS OF SALE
Booking: a booking is only considered confirmed upon payment of a deposit of 50% of the price of the trip. The balance of 50% should be paid in its entirety 90 days before the date of departure.
Cancellation: Any cancellation more than 90 days before departure will result in the withholding of the deposit. Within 90 days of the date of departure, no refund will be granted. The passenger can take additional cancellation insurance (please consult us).
Deposits: From the reservation date to 90 days before departure = 50% of costs.
From 89 days to the date of departure = 100% charge.
Insurance: Repatriation assistance, cancellation fees, luggage, interruption of stay and civil liability cover can be offered. Please contact us for these insurances.
Prices: Our rates have been established for the 2020 hunting season.
Hunting taxes: When making your reservation, you will be asked how many Roe Deer you wish to hunt. A deposit of shooting taxes worth € 200 per animal will then be made and charged within 7 days after receipt of the final invoice.
.
---
PRACTICAL INFORMATIONS
Temperatures: European climate
Extension of stay: We can recommend and book several hotels in Belgrade or elsewhere if you wish to spend a few more days in Serbia or Croatia. Your weapons can be stored safely during your non-hunting portion of the stay.
Health and vaccines: No vaccine is required, however, if you take any medication it is essential that you bring it with you as we cannot guarantee that any medication will be available locally.
Visa / Passport: No visa is needed. A passport valid at least 6 months after the return date is required.
Weapon import: A valid European firearms card is compulsory, consult us.
---
PHOTOS GALLERY
---
PRESS REVIEW (Fr): 
Serbie article C. de la Chasse
---
VIDÉO

https://www.youtube.com/watch?v=53Ax7-C0Dwg
---
Contact-us                                  Back to Hunting Trips