TRIP DETAILS
In the heart of Lapland, the kingdom of pike!
On the river Ångermanälven (known as the kingdom of the pike!), our fishing center welcomes you. The wild and raw beauty of the Swedish landscape is rarely visited by anyone other than fishermen, providing the perfect environment for the freedom of stalking fish as if you are alone in the world. Stalking pike is the fishing method od choice and catches of more than a meter deep are frequent. It is also possible to fish for trout, grayling and whitefish.
The 2019 season record was 122 cm at the Buster Jerk!
The camp is located on the river Agermanälven, 22km south of Asele. Due to the building of a hydroelectric dam upstream over 50 years ago, the river is slow running, creating inlets and pools that provide shelter for pike and perch and create perfect fishing locations.
The available fishing area is around fifty kilometers long and the perfect place for amateur fishermen to discover their love for fishing through surface lures, soft lures and bait fishing.
This fabulous playground is but a short stroll from the cottage which lies a mere 100m away from the river. There is also the option of fishing in one of the many forest lakes. Surrounded by untouched wild woodland, each lake offers a unique experience, allowing you to target perch, pike or both depending on the lake you chose.
.
Catching pike of a meter long is a real possibility, as demonstrated by fishermen every year!
Perch are also fantastic to fish as they often exceed 50cm in length and are in numbers large enough to almost guarantee that you will catch several dozens of them a day.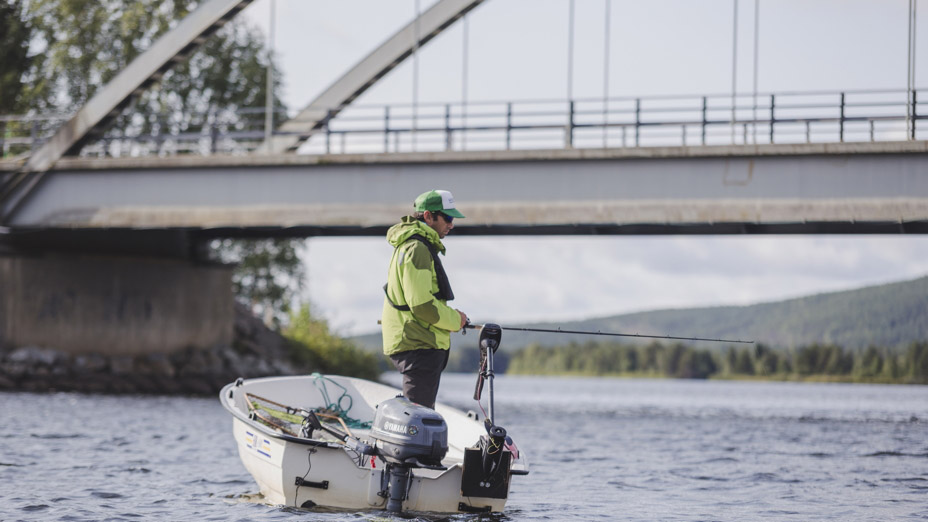 You will have at your disposal 4.3m long motor boats with 4hp engines in perfect condition. There is the option of equipping them with a fish finder and 30lb electric motor.
In order to ensure the sustainability of the local ecosystem and quality of fishing, we have a 'no kill' policy for our pike and a 'catch and release' policy for perch whose size exceeds 30cm. This is done in the aim of improving your fishing experience!
THE EQUIPMENT
If you do not wish to transport your rods, the camp provides top-of-the-range SMITH brand rods (20 – 90g power) free of charge on request. Some people chose to bring their favorite reel to ensure their comfort whilst fishing.
The lodge has shops for fishing tackle as well as souvenirs. In the fishing shop, you will find all the lures you could need at reasonable prices (the same as those on the French market).
ACCOMMODATION

Our wooden lodges are equipped with kitchens in order to allow you to be independent and autonomous during your stay. The kitchen is fully functional with a refrigerator, stove, microwave, dishes, cutlery, and your lodge also contains a clothes dryer and Wi-Fi.
Each lodge has two bedrooms with two beds and bed sheets provided. The bathroom contains a shower, toilet, bath, with towels provided.
Smoking is strictly forbidden in the chalets and pets are not allowed.
TRAVEL DETAILS
Day 1: Paris / Stockholm. Transport to the camp by rental car, settling down, bed.
From day 2 to day 7: Fishing days with fishing techniques with no time restraints.
Day 8: Car ride (in the rental car) back to Stockholm. Stockholm / Paris
SEASONS AND FISHING ORGANISATION
Opening season 2020: from 1st of June 2020 to 15th September 2020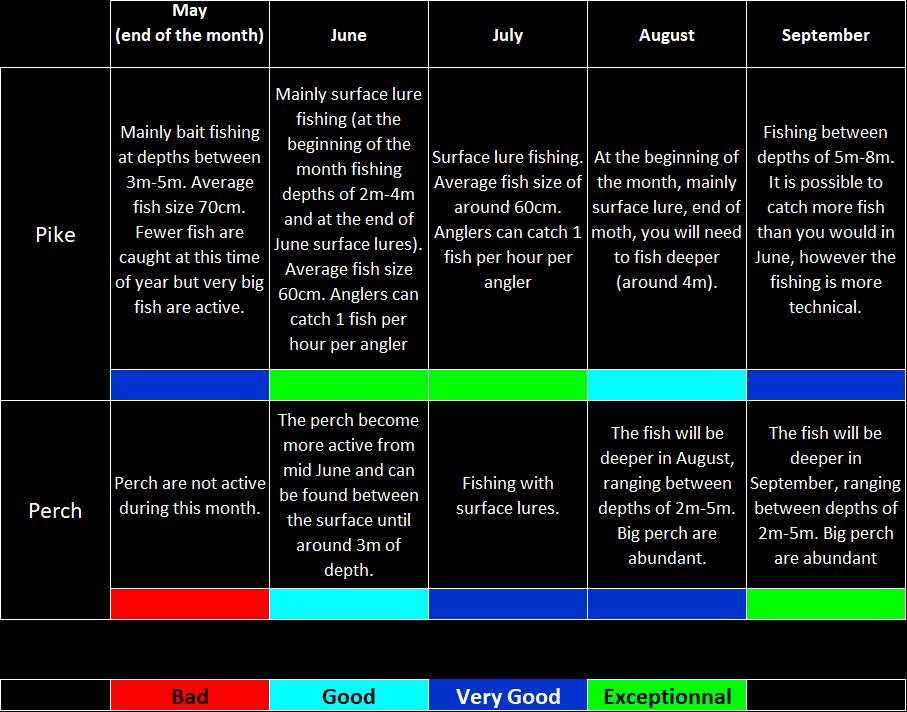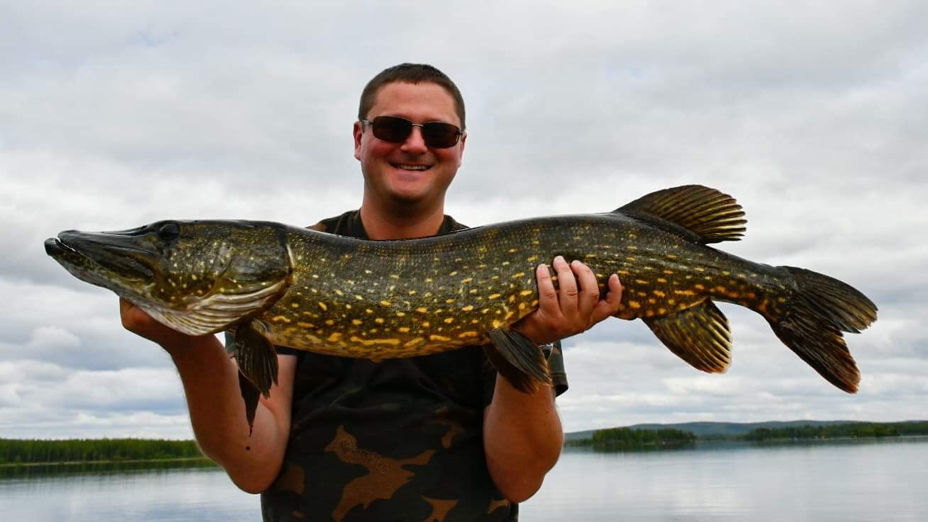 ---
PRICES  2020 
7 NIGHTS / 6 DAYS OF FISHING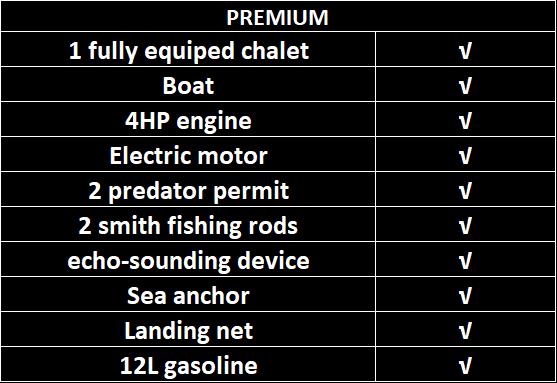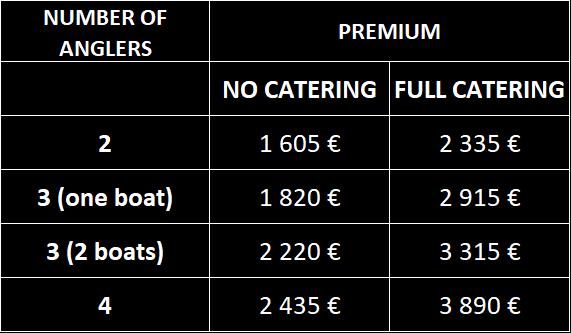 What's new in 2020 :
A new trout fishing area of 30 km in which we offer you 2 free day passes per fisher along with the possibility of renting a boat with an 8hp motor (as opposed to 4hp), and 40lbs electric motor (as opposed to 34lbs), supplement to be paid on site.
These prices do not include:
Flights between France and Stockholm,
The car rental which will be used for travel from the airport to camp as well as between the different fishing areas
Possible domestic air transport between Stockholm and Umeå, Örnsköldsvik, Vilhelmina or Lycksele airports.
A deposit of 200 € for boat and chalet rental,
Alcohol,
The fishing license for trout, char and grayling,
Boats rental for fishing in other areas,
The rental of a motor for your boat as well as the rental of a depth sounder,
The possible purchase of decoys,
The assistance of a fishing guide, (for supplementary costs, please consult us),
Cancellation, assistance and repatriation insurance.
TERMS & CONDITIONS OF SALES
Booking: a booking is only considered confirmed upon payment of a deposit of 50% of the price of the trip. The balance of 50% should be paid in its entirety 90 days before the date of departure.
Cancellation: any cancellation more than 90 days before departure will result in the withholding of the deposit. Within 90 days of the date of departure, no refund will be granted. The passenger can take additional cancellation insurance (please consult us).
Insurance: Repatriation assistance, cancellation fees, luggage, interruption of stay and civil liability cover can be offered. Please contact us for these insurances.
Prices: Our prices have been calculated according to a Swedish crown rate estimated at 1€ = 10,80 SEK ). In the event that the exchange rate of this currency is different from the one indicated above on the date of receipt of your deposit and balance, we will modify our price list. Prices are valid for the 2020 fishing season.
---
PHOTOS GALLERY
---