DETAILS OF THE STAY
It is with great excitement that we offer all lovers of exotic fishing trips one of the most beautiful destinations both in terms of its landscapes and fishing quality: The Pacific coast of Colombia!
Until now, very few, if any, lure fishermen have had the opportunity to fish on the Pacific coast of Colombia. Since the final ceasefire between the government and the FARC in 2016,  peace and security has improved considerably, and increasing amounts of tourists are coming to discover Colombia. Be one of the first to explore the fishing wonders that had for so long gone undiscovered!
The fishing areas we put at your disposal are vast and untouched. The fish populations are incredible high, and the fish reach several dozen kilos. Colombia is without a doubt the ultimate new fishing destination in the Pacific for spinning and jigging.
Whilst Colombia does have a healthy fishing industry, the Colombian government has, like the Panamanians, banned nets longer than 50m, as well as the use of long liners, allowing for the protection from industrial exploitation for the fish we are looking for.
The species we target are: Roosterfish, cubera snapper, groupers, jacks, not to mention yellowfin tuna, wahoos, amberjacks, tarpons, snooks and other predators. We use all fishing techniques, but favor lure fishing (spinning and jigging).
The Colombian Pacific coast is unique as it is one of the few exotic fishing destinations which can be fished year-round as predators are present throughout the year and mild weather.
Whilst rain is of course not something we can promise to avoid, we recommend planning a trip between November and the end of May if you would like the lowest chances of rainfall. It is very rare to be bothered by wind in this region, no matter the time of year.
Yellowfin tuna are present in vast quantities and you will be able to fish them almost every day by casting. They attack anything that moves and can even be caught just a few feet out. Yellowfin tuna will give you a great battle as their weight sometimes exceeds 100kg!
SEASON AND TYPES OF FISHING
On the Colombian coastline, the dry season runs from November to the end of May whilst the wet season runs from June to October, but we strongly believe that fishing is wonderful all year round. All the regions greatest fish, the cubera snapper, jacks, roosters, yellowtail and yellowfin tuna are present throughout the year on Colombia's Pacific coast.
During trips for cubera snappers, jacks, rooster fish, tarpons and yellowfin tuna, you will be casting with lures such as poppers and stickbaits.
Jigging is very rewarding, not only producing great yields but also great surprises as anything can happen! Jacks, rooster fish, cuberas, groupers, amberjacks, tuna and wahoos are very active with this type of fishing.
If you wish to catch some of the greats: sailfish, dolphins, wahoos and marlin; the rostrum fish corridors are only a 20 minutes boat ride from the anchorage thanks to the fact that the continental break is so close to the coast.
Pelagic fish are caught by trolling, luring or with bonito as live bait.
NB: 100% NO KILL for roosterfish, cubera snappers, jacks, tarpons, sailboats and marlin fish!
BOATS AND GUIDES
Our 32' long (9.75 m) open hull boats are powered by two Suzuki outboard motors and equipped with a cover, color depth sounder with GPS mapping, VHF, livewell and all the safety equipment. These allow for swift and comfortable transport between fishing spots.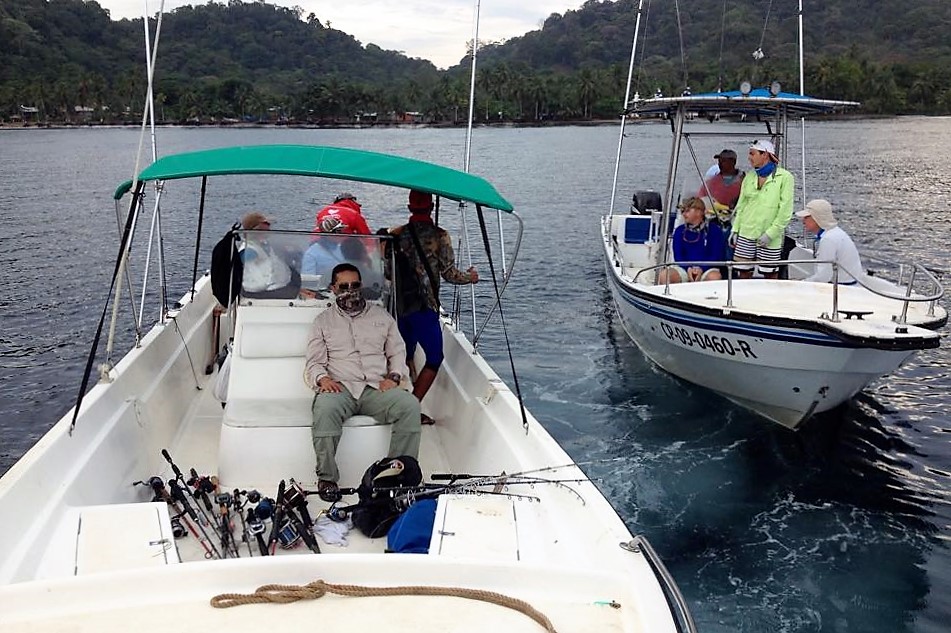 During fishing trips, you will be supervised by fishing guides and their crew. Our guides and crew are professionals and have full knowledge of all the fishing techniques you will be needing in the Pacific Ocean and know the area like the back of their hand.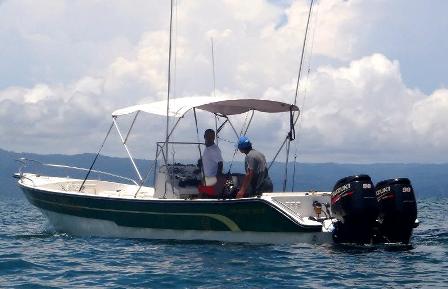 FOOD AND ACCOMMODATION
During your trip you will be staying at a lovely hotel right on the beach and just a few meters from the fishing boats. The hotel is quaint and secluded, meaning it is only accessible by boat (there are no roads to get there). Hotel rooms are all equipped with bathrooms, air conditioning, a safe, cleaning services and Wi-Fi.
The chef will cook you the catch of the day to your taste while you enjoy delicious cocktails.
Immersed in lush vegetation, you will enjoy the breathtaking views, smells and sounds of the tropical forests and the Pacific Ocean.
THE TRIP
The typical trip, 6 days of fishing and 9 nights, is as follows :
DAY 1: PARIS-MEDELLIN. Reception at Medellin airport and overnight in Medellin in a double room.
DAY 2: Breakfast and MEDELLIN flight to the fishing zone (25 minutes). Airport pick-up, vehicle transfer (5 minutes), then boat transfer (20 minutes) to the Lodge. Lunch, afternoon rest. Dinner and overnight stay in a double room.
DAYS 3 à 8: Six full days of guided fishing with 2, 3 or 4 fishermen per boat. Six nights at the Lodge in double room and full board.
DAY 9: Departure from the Lodge after lunch and flight FISHING ZONE/MEDELLIN (25 minutes). Reception at MEDELLIN airport, transfer and overnight stay at the hotel in MEDELLIN in double room.
DAY 10 : Breakfast and transfer to MEDELLIN airport then flight to PARIS.
Whale watching :
From July to October it is possible to see whales that come to just a few hundred meters from the Lodge to breed. Every year, between 1500 to 2000 wales come to breed and it is a magnificent site to see.
---
PRICES 2020

Non-fishing rate (with a double room): 1 190 €
Services included in our package:
Reception and assistance at Medellin airport on the way to and from the airport,
Transport between the hotels and to/from Medellin Airport
2 nights in Medellin in a double room (breakfast included) at the Ibis hotel or a similar hotel (1 night before the trip to Bahia Solano and 1 night after Bahia Solano),
Transport to and from Bahia Solano from Medellin,
Airport transfers to Bahia Solano Lodge on the outward and return journey,
Accommodation (full board) in a double room for 7 nights at the fishing lodge, air conditioning, sea view and terrace with hammock,
The provision of a 32′ feet boat with crew for 6 days with 2, 3, 4 or 5 anglers per boat,
The services of a fishing guide and his sailor for 6 days,
Snacks, fruits and drinks on board the boats.
Hotel insurance and taxes
Services not included in our package:
The return flight PARIS – MEDELLIN,
Any excess baggage,
Additional excursions,
Personal expenses and tips for guides,
Drinks, lunches and/or dinners in Medellin,
Any "cancellation, accident, assistance and repatriation" insurance,
Throwing and jigging fishing equipment.
TERMS & CONDITIONS OF SALE
Booking: a booking is only considered confirmed upon payment of a deposit of 50% of the price of the trip. The balance of 50% should be paid in its entirety 90 days before the date of departure.
Cancellation: any cancellation more than 90 days before departure will result in the withholding of the deposit. Within 90 days of the date of departure, no refund will be granted. The passenger can take additional cancellation insurance (please consult us).
Insurance: Repatriation assistance, cancellation fees, luggage, interruption of stay and civil liability cover can be offered. Please contact us for these insurances.
Prices: our rates have been established for the 2020 fishing season.
---
PHOTOS GALLERY
---