FISHING TRIP DETAILS
The experience we offer in Guinea Bissau is unique. Charming accommodation on a magnificent private islet located in the heart of an exclusive fishing area, teeming with fish, with professional supervision from guides as passionate about fishing as you are.
Our fishing center is world renowned for being one of the most beautiful areas in the Bijagos and is above all known to be an excellent fishing spot. Throughout the season (which lasts from September to June), this area provides the perfect balance of adventure and comfort. Your stay will be composed of a mixture of boat fishing, night fishing trips surf casting, mornings and evenings spent fly-fishing around the islet whilst watching the sun rise and set- fishing paradise. On site, a fishing shop will be at your disposal, offering all the equipment you could need, including a whole range of lures best adapted to local conditions.
Non-fishing guests are welcome and will also have wonderfully enjoyable trips as they will have the opportunity to discover the Archipelago islands which were classified by UNESCO as a World Biosphere Reserve in 1996 and are on their way to becoming a World Heritage Site. Activities such as kayaking, island hopping, visiting local villages and sunbathing on the white sandy beaches ensure a deeply enjoyable trip for any guest. The sea surrounding the beach by the lodge is calm allowing for a comfortably experience for swimmers and fishermen alike.
Fishing days are packed with adventure and last from 8:30am to 6pm. The proximity of the fishing spots to the lodge gives you the option to go back for comfortable lunches in the restaurant, but if you want to fish through the day you have the option of staying out and bringing a picnic. If you don't mind giving up the luxury of the main lodge you also have the option of bringing camping equipment in order to access other fishing spots around the Archipelago.
ORGANISATION
Your fishing guides are all experienced sailors and fishermen and know the area like the back of their hand. The only thing you will have to think about will be the fishing!
Our fishing center is located in one of the most beautiful areas in the Bijagos and has over the years has blended into the natural scenery. 14 rooms are available in 8 independent bungalows along the white sandy beach. No matter where you are in the resort, you will be able to keep your eye on the sea so when you see the fish moving you can grab a rod…
BOATS AND EQUIPMENTS
The fishing boats you will be using are unsinkable, of professional quality (Hauchard shipyards) and are made from aluminum. They combine safety with comfort as they are spacious yet also sturdy. The boats easily hold three fishermen, allowing you plenty of space to cast into the reefs teaming with jacks, red snapper and other predators without trouble.
Our boat engines are suited for all types of fishing and are well maintained and, when necessary, replaced. Each boat has a VHF and GPS radio and the center is equipped with two Lowrance fish finder, which enable us to locate the best fishing spots, especially for jigging.
FISHING TECHNIQUES AND FISHES
Fishing in the Bijagos is excellent no matter which technique you use and whilst our guests are successful with most rig set ups, they seem to particularly enjoy fishing with lures (casting), with light, medium or heavy tackle.
Other "Classic" techniques include: surf casting, set or longline, trawling and fly fishing is a popular choice and has produced some magnificent catches.
Whatever the technique, one of our 3 tour guides will always be there to advise you. Beginners are welcome and will be given extra attention and tuition by our guides.
There is an extraordinary variety of big, powerful fighting fish in the area.
These include the mythical 'Tarpon' which can exceed 120 kgs and is to be found throughout the year!
The more classic predators are also present in number: barracuda reaching up to 35kgs, a variety of jacks and Kingfish which always guarantee a fight and can exceed 20kgs; red snapper reaching up to 20 kgs; black Kingfish up to 35kgs ; sharks, some of which reach 200 to 300 kgs; pagres; groupers; giant perch; mackerel; bonitoes up to 25 kgs.
All can be fished for with lures, jigging, with a fly or by surfcasting.
THE TEAM
Run by the French representative for I G F A in Guinea Bissau, this fishing camp is an I G F A certification holder.
The staff has not changed in 12 years and is composed of locals, meaning that they not only have extensive knowledge of the area, but understand it's workings, allowing them to predict weather patterns and know where the best fish will be. The crew all are experienced fishermen and speak French. Laurent and the expatriate fishing guides will come on your fishing trips in order to share with you their passion for fishing and the Archipelago.
The entire team, be it in the kitchen, in the lodge or at sea, is always available for your every need and their friendly professional style is designed to make your stay as relaxing as possible.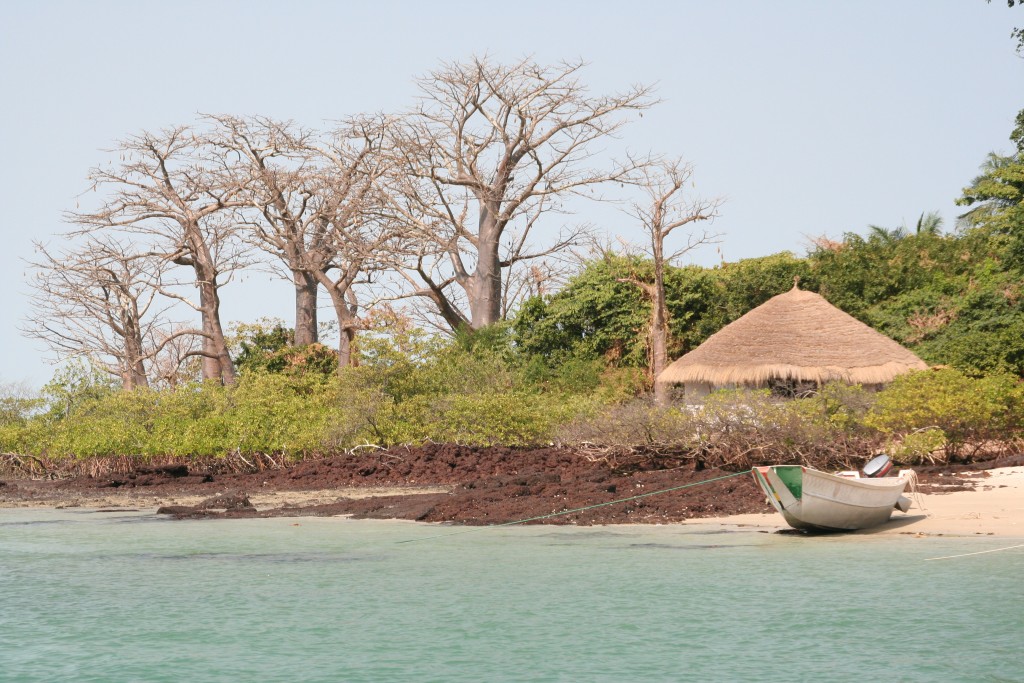 A TYPICAL TRIP
Day 1 (Saturday): PARIS / CASABLANCA and CASABLANCA / BISSAU via Royal Air Maroc. Arrival in BISSAU at night and welcome by your guide. Overnight on the mainland.
Day 2 (Sunday): Early wake up, transfer by boat to Kéré Island. The equipment will be prepared upon arrival and you will have a half-day fishing.
Day 3 (Monday) to Day 7 (Friday): Five full days of fishing.
Day 8 (Saturday): Half day fishing, and in the early afternoon transfer from camp / BISSAU by boat and then by car.
Day 9 (Sunday): Early morning flight BISSAU/CASABLANCA, transfer to PARIS. (Arrival in Paris in the early afternoon)
---
RATES 2019 / 2020

Services included in our package
Reception and assistance at Bissau airport,
Accommodation (full board) for six nights,
The organization of 6 days of fishing on a 6.5 m aluminum hull boat with skipper and professional fishing guide,
Bivouac on request
Services not included in our package
Air transport PARIS / CASABLANCA / BISSAU and return flying RAM (economy class), about 850€
Hotel night(s) in BISSAU (35€ per person/night in a double room),
Meals and drinks in Bissau on arrival and departure days,
Drinks, tips and personal expenses,
The visa for GUINEA BISSAU,
Tourist tax (about 30 € per week, per person),
Bissau / Fishing camp and return (35€ per person),
The individual bungalow supplement (25€/night),
The possible rental of fishing equipment (rods and reels) (140€ / fisherman for 6 days of fishing),
Repatriation, cancellation, baggage and accident insurance.
TERMS & CONDITIONS OF SALE
Booking: a booking is only considered confirmed upon payment of a deposit of 50% of the price of the trip. The balance of 50% should be paid in its entirety 90 days before the date of departure.
Cancellation : any cancellation more than 90 days before departure will result in the withholding of the deposit. Within 90 days of the date of departure, no refund will be granted. The passenger can take additional cancellation insurance (please consult us).
Insurance : Repatriation assistance, cancellation fees, luggage, interruption of stay and civil liability cover can be offered. Please contact us for these insurances.
Prices: our rates have been established for the 2020 fishing season.
---
PHOTO GALLERY
---