MOZAMBIQUE
THE HUNTING AREA
Located in the Nyassa province, around 200 km east of Lichinga, the territory covers an area of around 420 000 hectares. The landscape is a mixture of Miombo forests and plains, very similar to the Selous game reserve in Tanzania. The Lugenda river which flows throughout the year delimits the western perimeter of the zone over many kilometers. The river then flows into the Ruvuma which acts as a border with Tanzania. Elephant, leopard, lion, Cape buffalo, Sable antelope (in large quantities) and Livingstone eland can all be found on our territory as well as a variety of other species: Crawshay's Zebra, Lichtenstein Hartebeest, Ringed Waterbuck, Chobe Bushbuck, Common Reedbuck, Warthog, Bush pig (Red River hog) and Bush duiker in large quantities.
There are also Nyasa wildebeest, Hippopotamus, Crocodile, grysbok and Greater Kudu but in slightly smaller quantities.
TRAVELING TO MOZAMBIQUE
Several airlines serve Maputo (TAP, Emirates, Ethiopian Airlines, etc.). You will most likely have to spend a night in Maputo before taking the internal transfer Maputo-Lichinga flight which typically leaves early in the morning with the LAM company (3 to 4 flights per week). The camp is a 3 and a half hour long drive from Lichinga Airport.
HIGHLIGHTS OF THE STAY
A large hunting area bordering the Nyassa reserve.
Very strong densities of leopard, Cape buffalo, Sable antelope and Livingstone elands.
Good value for money.
Inexpensive charter flights.
Experienced hunting guides.
YOUR CAMP
The camps have kept the all the African charm of yesteryear whilst retaining modern comfort. The so-called "English-style safari tents" are spacious, completely mosquito proof, suitable for two people and include a large en-suite bathroom. A large restaurant/ relaxation area can be found in the center of the camp made from local materials, allowing it to perfectly blend with it's surroundings. Camps overlook the banks of a river or stream.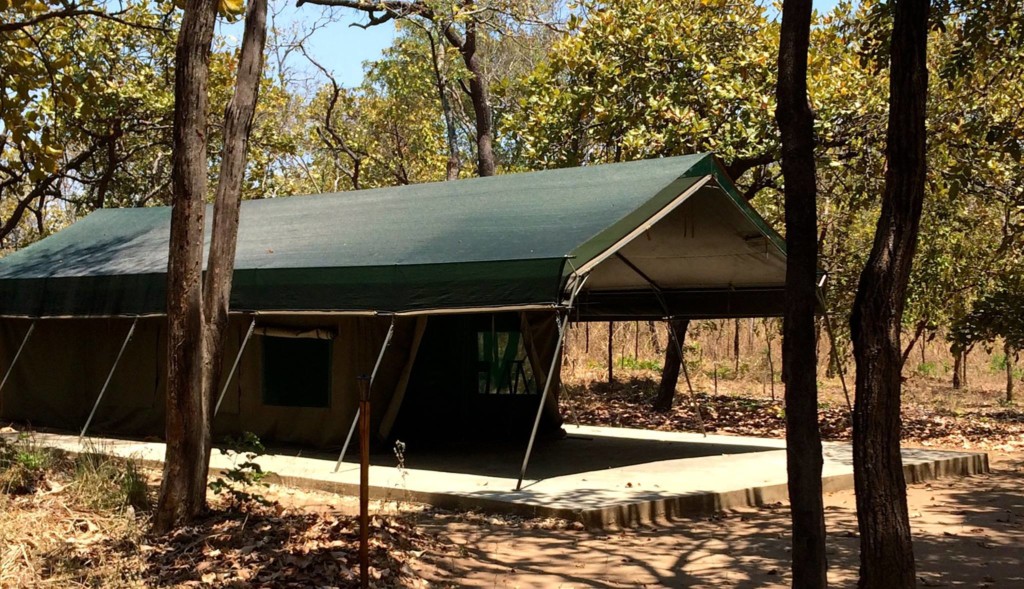 HUNTING SEASON
From April the 1st to the 30th of November. June and July are the best months for lion and leopard, whilst August to November are ideal for buffalo and plain game safaris.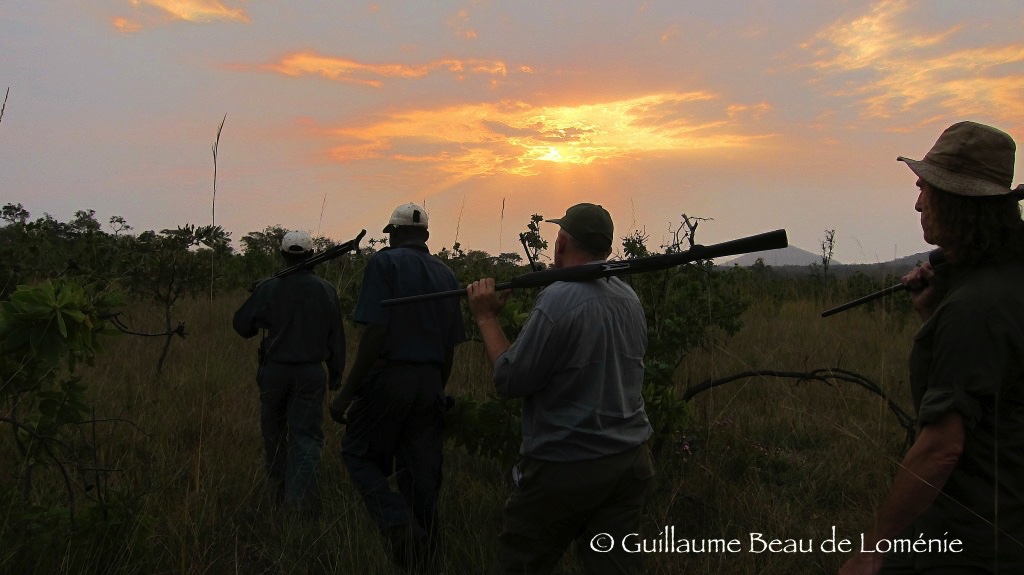 FORMALITIES / HEALTH
Valid passport is required.
Valid firearms pass is required.
Up-to-date yellow fever vaccine and anti-malarial treatment is required.
We take care of your hunting license and weapon import license.
Visa to be obtained from the Embassy of Mozambique.
WEAPONS AVAILABLE ON SITE
Blaser R93 caliber 375 HH scope Swarovski 2-9 x 42 – Blaser R93 caliber 7 Rm scope Docter 2,5-10 x 48 – Brno caliber 375 HH scope Hertel & Reuss 2,5-10 x 46 – Mauser 98 caliber 30.06 scope Optalens 3-12 x 46 – Blaser caliber 500 NE scope Aimpoint – Brno caliber 458 WM no scope, Weatherby caliber 460 W – Shotgun caliber 12, 1 rifle caliber 22 ;
---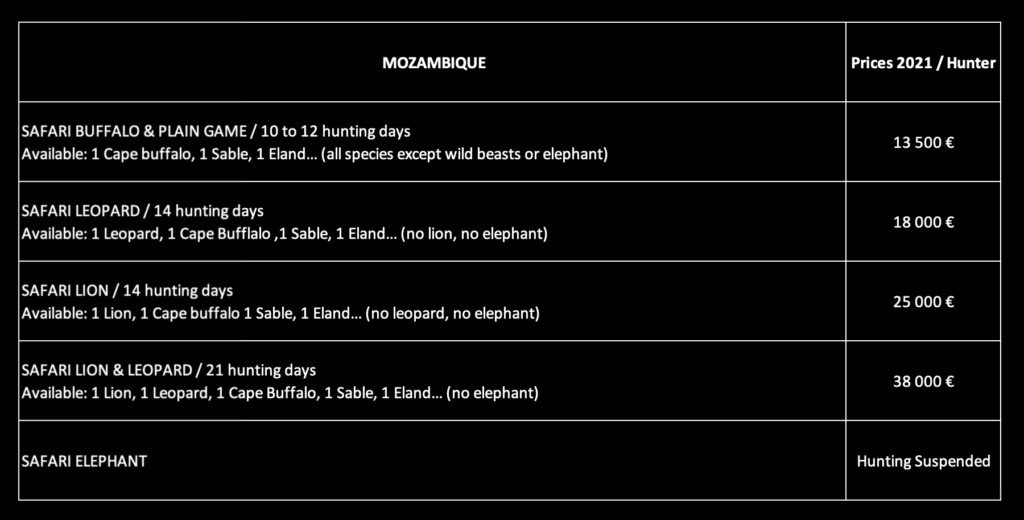 In order to confirm your stay you must send us a deposit of 50% upon booking, the balance must be paid 90 days before departure. Payment by credit card, bank transfer or check payable to GP Voyages.
These prices include:
Full board accommodation
All drinks
Hunting service with PH, trackers and 4×4 vehicle
17 % VAT
These prices do not include :
Flights and visas
Transport by air conditioned car from Lichinga airport to camp and return : 300 € each trip / person.
Gun import License : 400 € per gun (or weapon rental on the premises) to be paid on site.
Hunting License : 400 €. (to be paid on site)
Tips, visa, satellite phone. Hotel, restaurant and taxi before and after the safari. (to be paid on site)
Skinning and salting of trophies, transport of trophies to Lichinga : 700 €.
Dipping, crating and shipping of trophies.
Trophy Fees. In euros

These taxes are partly set by the Mozambican government for the 2019 season and are subject to change without notice. The agent or the company cannot be held responsible for any changes.
Any injured animal or any animal drawn for bait is subject to payment of the shooting tax.
Optional :
Insurance for repatriation assistance, cancellation fees, luggage, interruption of stay (Contact us)
CIP service for reception and formalities at Maputo airport (around 150 € per hunter) if you have weapons. (to be paid on site).
Hunting liability insurance: € 70 (or provide us with a certificate)
Weapon and ammunition rental (35 € per day + ammunition), only if necessary.
Non hunter companion : 150 € per day. Flights, transfers, visa, tips and insurances are not included.
TERMS & CONDITIONS OF SALE
Booking :a booking is only considered confirmed upon payment of a deposit of 50% of the price of the trip. The balance of 50% should be paid in its entirety 90 days before the date of departure.
Cancellation : any cancellation more than 90 days before departure will result in the withholding of the deposit. Within 90 days of the date of departure, no refund will be granted. The passenger can take additional cancellation insurance (please consult us).
Insurance : Repatriation assistance, cancellation fees, luggage, interruption of stay and civil liability cover can be offered. Please contact us for these insurances.
Prices : our rates have been established for the 2021 hunting season.
Rules: The shooting taxes, permits, transfers, the first preparation of the trophies and tips must be paid on site at the end of the stay or before the safari by bank transfer.
Licenses & taxes: The Mozambican government can decide at any time to increase shooting taxes, hunting licenses, weapons import licenses, VAT, … or to create new taxes. In this case, the hunter has an obligation to pay the new taxes.
---
PHOTOS GALLERY
---
Contact us                                  Back to hunting trip