SOUTH AFRICA – Free Range Hunting
We offer true FREE RANGE HUNTING in three large UNFENCED conservancies for exceptional trophy quality animals where they are INDIGENOUS and occur naturally.
This UNRESTRICTED MOVEMENT we believe leads to better trophy quality, a more challenging hunt and an authentic African safari experience.
Safaris are conducted in an ethical manner. Accommodation is in traditional luxury tented camps or lodges on huge free range conservancies. We have a highly skilled team of Professional hunters, trackers, chefs and camp staff all dedicated to ensure a memorable and rewarding African Safari.
We hunt three large free range, unfenced conservancies. The Baviaans River conservancy is 450 000 acres (182 000 hectares) and the Stormberg mountains is 150 000 acres (60 000 hectares), both these areas are in the Eastern Cape Province. In Kwazulu Natal we hunt the Umkomaas conservancy, a 100 000 acre area of prime unfenced free range hunting.
The time available and priority animals will determine which areas we hunt and how long we spend in each area.
All animals are hunted in their indigenous environments and with such a vast hunting area we are able to keep the hunting pressure low while maintaining the high trophy standards we set for ourselves.
Our hunting season runs all around the year but the best time is from March to November.
We attempt as much hunting on foot by spot and stalk. In order to cover widespread terrain and get to good vantage points we use comfortable 4×4 vehicles and ATVs.
We have an excellent bow hunting record, the bow hunting challenge is something that we enjoy. Our bow hunts run from May through October when water is difficult to come by and animals are more concentrated.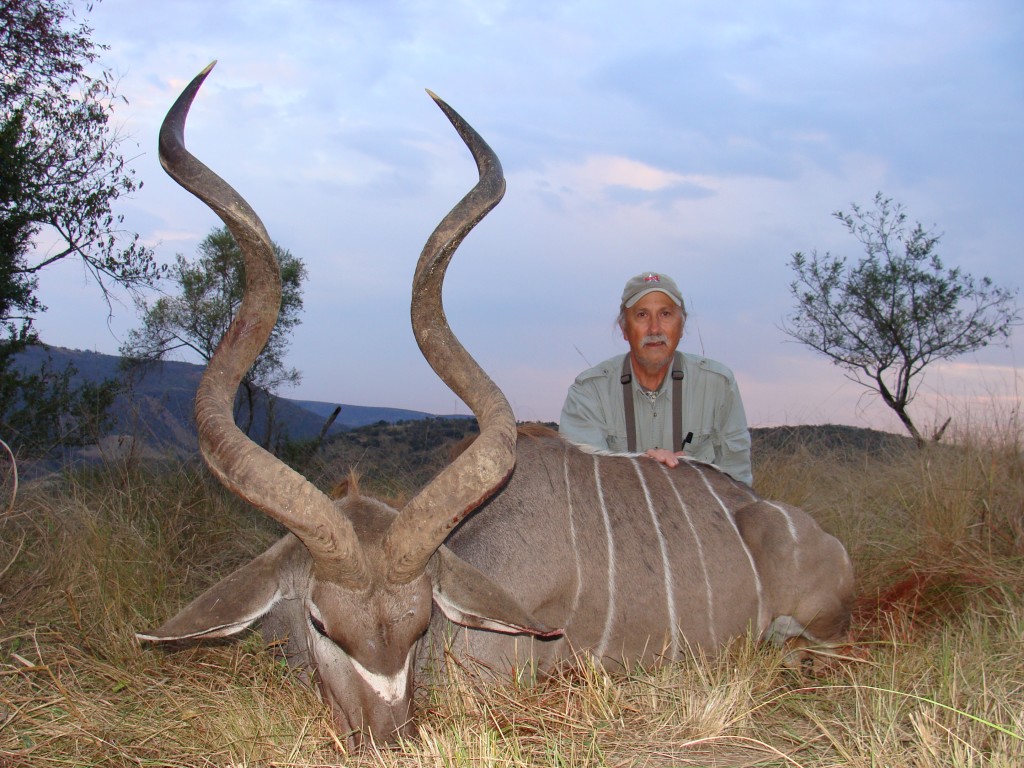 OUR HUNTING AREAS
The Baviaansriver Conservancy – The Baviaansriver lodge is situated 3 hours north east of Port Elizabeth (Eastern cape province). The luxurious lodge has 8 private chalets and large entertainment area ; meals from game shot on safari are prepared in African style on open fires. Savannah grasslands and thickly wooded valleys are home to large numbers and variety of animals.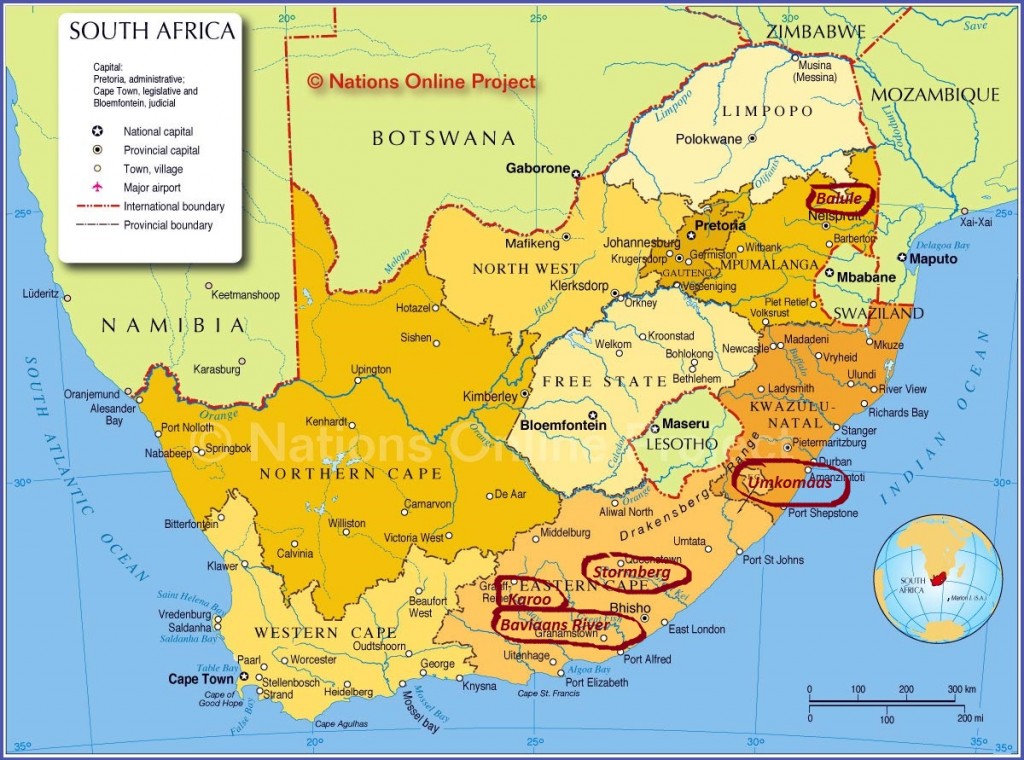 The Umkomaas Conservancy – Southern Greater Kudu, Nyala, Bushbuck and plains game inhabit the dense indigenous forests and rolling hills of the 100 000 acre Umkomaas conservancy. The camp is a traditional tented camp on the banks of the river, en suite chalets, electrical blankets, indoor and outdoor showers all contribute to a great atmosphere and luxury tented camp experience.
The Stormberg – At 5500 feet above sea level the Stormberg mountains is a unique area. Waterfowl, Greywing partridge and guineafowl makes for a good bird hunting challenge. The Vaal Rhebuck and Plains Game in the Stormberg are of exceptional quality. Two hours north of the Baviaansriver and five hours south of the Umkomaas this unique country adds great variety to the safari.
FLYING TO SOUTH AFRICA

Many airlines fly to South Africa. It is easy to get to Johanesbourg then Port Elizabeth or Durban. Once in Port Elizabeth or Durban your Professional hunter will be waiting for you and will drive you to camp.
Port Elizabeth to Baviaansriver lodge is 3 hours. Durban to Umkomaas camp is 2 hours.
If you need to hunt two areas, this is the distance between camp by car :
Baviaansriver to Stomberg        2 hrs                            Baviaansriver to Umkomaas      7 hrs
Stormberg to Umkomaas          5 hrs
If you travel with firearm we will take care of the import procedure (minimum 2 months before departure), a person will wait for you at Jhb airport and assist you. Plan at list 4 hours transit in Jhb to clear your firearm. Be careful when you book your flights, some international and domestic airlines refuse to carry weapons !
Sightseeing
We cater for the whole family on our safaris. Combine your hunting trip with some of South Africa's best tourist attractions, including our famous big five game reserves, beautiful Cape Winelands, the warm Indian ocean, unspoiled beaches, traditional African settlements and a rich history. South Africa's diverse locale offers something for the whole family. On request a full-time guide can set up custom sightseeing trips to South Africa's best locations. These excursions can organized for couples or families and are easily combined with your hunting safari.
Malaria Free
All our Crusader Safaris hunting areas are completely malaria free and malaria medications are not required, unless hunting buffalo. There are no mandatory shots although hepatitis and tetanus vaccinations are recommended.
Clothing                                                  
Laundry is done regularly so travel light, 3 pairs of hunting clothes is sufficient. Dark browns, khaki and camo are all good colors. A warm jacket and a comfortable pair of hiking boots are essential for our hunting conditions.
Weather
All hunting is done in the fall or winter months and pleasant weather is expected throughout the season. Rain is very unusual and the typical temperatures vary from 60°F to 80°F during the days and cooler in the evenings and early morning.
Our hunting season runs from March to November. Our mid winter months of June, July and August can get somewhat colder. Early morning and night temperatures can drop below freezing, good for hunting, but bring some warm gear.
Weapons
Rifle, recommended caliber : 300 WM, 300 Weatherby, 7 MM, .308. or similar rifles on plains game hunts. We have a large choice of rifles if you do not want to bring one.
Our bow and black powder hunts are a mixture of blind hunting and walk an stalk. As we don't hunt high fenced areas we consider six animals in 10 days a successful safari. You can expect a success rate of 80% on kudu and good opportunities on the other species leaving Crusader Safaris confident in the knowledge that all species were hunted ethically.
Formalities
Passport needed and visa required for some countries, check with your embassy.
Trophy preparation
At the end of the safari, once the skins and horns are dry we will sort them and deliver to the taxidermist (included). They will contact you directly and copy everyone involved, you can then decide to make your taxidermy in South Africa or in your country. It is usually 4 months for dip and pack and 8 months for taxidermy work.
---
SOUTH AFRICA Free Range Hunting – PRICELIST 2021

Includes :
All licenses and Permits
A licensed, professional hunter, skinners and camp staff
Accommodation, catering and laundry
Transfer from Durban or Port Elizabeth to camp and back
Skinning and salting of trophies
Drinks
15 % VAT
Excludes :
Airfare to and from South Africa
Gratuities
Rifles and ammunition (Import procedure is approx. 200 Euros or Rifle rent is approx. 30 Euros / day + ammo)
Dipping, shipping and crating of trophies
Insurances
Trophy Fees,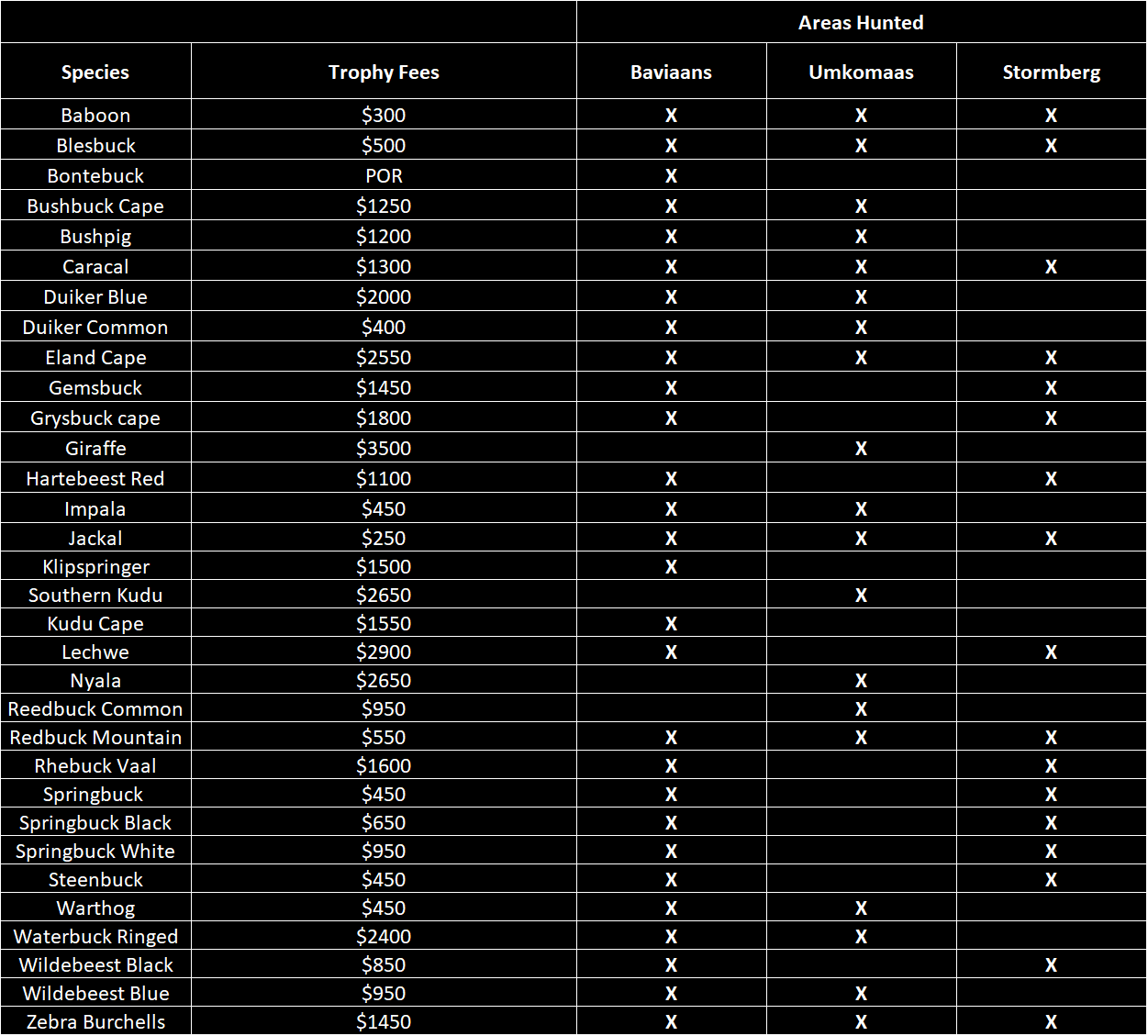 TERMS & CONDITIONS OF SALE
Booking: A booking is only considered confirmed upon payment of a deposit of 50% of the price of the trip. The balance 50% should be paid in its entirety, 90 days before the day of the shoot. The payment of the deposit, implies the acceptance of the terms and conditions.
Cancellation: Any cancellation made more than 90 days before the date of the booking, will result in the forfeiture of the deposit (50% of the trip) between 90 days and the day of the booking, no refund will be given. You may claim on "cancellation" insurance policies, if these have been taken out.
Warranty schedule: From the booking date to 90 days before departure = 50% of costs
From 89 days to the day of the shoot = 100% of costs.
Prices: Prices are valid for the 2021 hunting season.
---
PHOTO GALLERY
---